Seaway Express named Carrier of Choice
September 4, 2018
Cornwall Ontario – After winning the Canadian Shipper's Shipper's Choice Award for 5 consecutive years, local transport company, Seaway Express is now a designated Carrier of Choice.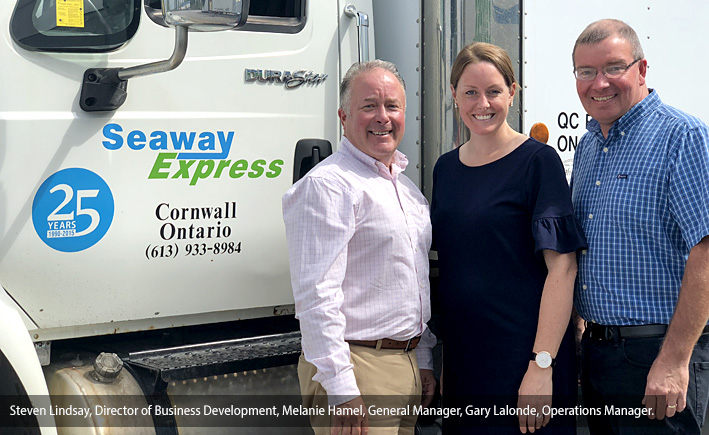 This award was presented in July by national transportation magazine, Canadian Shipper.
Shippers are asked to rank the importance of eight criteria, this includes on-time performance, competitive pricing and customer service.
From there, they rank their carrier based on the criteria. Carriers receive the Shipper's Choice Award when their total score meets or surpasses the total Benchmark of Excellence.
This is not an easy award to win – especially 5 times in a row.
"Being recognized as a Carrier of Choice alongside some of Canada's largest transport companies, is a great honour," says Melanie Hamel, General Manager of Seaway Express. "This award puts our Cornwall-based company on the map for national partners looking for transportation services in this area."
Ms. Hamel credits Seaway Express's dedicated employees for the award.
"Our customer-driven team at Seaway Express is the reason for this win," says Ms. Hamel. "This award would not be possible without all players involved."
Canadian Shipper is written for Canadian supply chain professionals, with a focus on the transportation link of the supply chain. Editorial content includes news and analysis, industry profiles, geographic market reports, and analysis of issues and trends affecting supply chains either within Canada, or in the broader global theatre. Canadian Shipper introduced the Shipper's Choice Awards in 2002 and they have been awarded annually since then.
This year 34 carriers managed to surpass the Benchmark of Excellence, of which only 15 earned the "Carrier of Choice" designation.
"Transportation service providers constitute a critical link to the supply chain and their ability to meet shipper demands for constant improvement is crucial to supply chain effectiveness," said Lou Smyrlis, managing director of the Supply Chain Group for Newcom Media.
About Seaway Express
Seaway Express provides reliable and efficient overnight transport service between Eastern Ontario and Québec. Beginning as a one truck operation, Seaway Express has grown over the years to its present fleet of over 70 tractors and trailers and 50 employees. Equipment includes straight trucks, tractors, trailers as well as container chassis. Seaway has expanded its service with warehousing and distribution into local distribution centers for Walmart and Shoppers Drug Mart.