Seaway Express Rolls Out a Message of Support
April 15, 2020
Cornwall Ontario – When a community is in crisis, it is often the front line workers that step up and take the necessary risks to get the job done. This includes food processing and grocery store workers, truck drivers, first responders and of course – the medical professionals in our hospitals and long term care homes.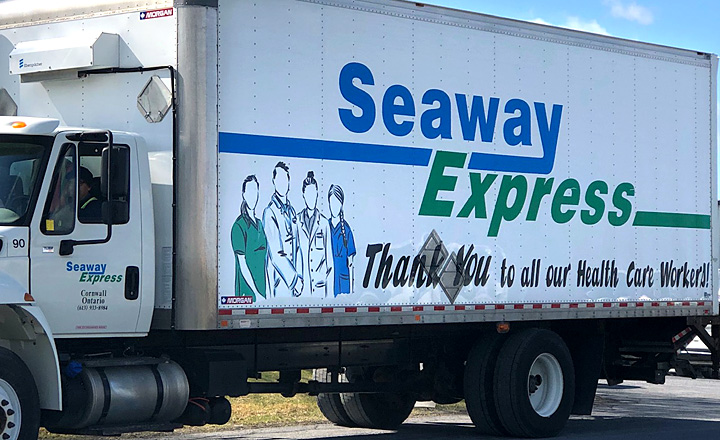 Seaway Express, a Cornwall based transportation company, has decided to deliver a message of thanks using equipment at hand. One of their trucks now carries the message "Thank you to all our health care workers". It hit the road for the first time today and you can find it doing deliveries in the Cornwall area.
"We wish we could thank each healthcare professional for their hard work, especially during this crisis, but with our 'moving billboards' we have an opportunity to send our message on the road," says Melanie Hamel, General Manager for Seaway Express.  "It's the very least we could do."
Seaway Express is part of Canada's vital supply chain network that is delivering much needed supplies to businesses, hospitals and manufacturers. The company primarily operates in Ontario and Quebec. Cornwall is regarded as one of Canada's main hubs for supply chain activities as it home to major distribution centres for Walmart,  Shoppers Drug Mart and others.
Earlier this month Ontario reiterated its support for the Ontario transportation sector.
ADDITIONAL RESOURCES

We summarize the latest news about the impacts of COVID-19 on Cornwall businesses on a daily basis. Click on the following link to view: