Seaway Express Rolls With Growing Economy
November 26, 2019
Cornwall Ontario – Seaway Express continues to fuel growth by reinvesting in its operations in the Cornwall Business Park.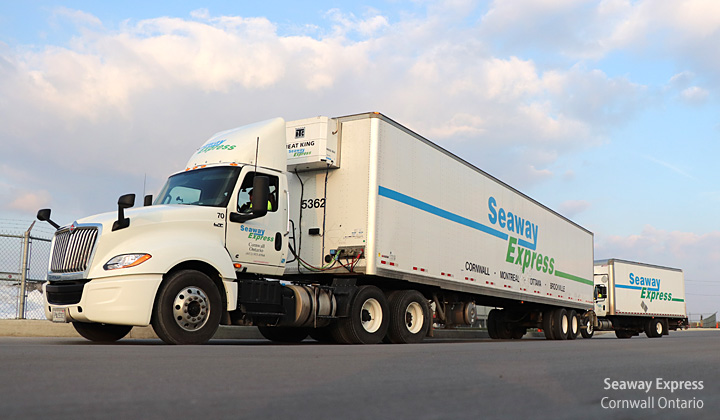 The company has recently invested $740,000 in new equipment, growing its fleet with the addition of 3 new tractors and 4 trailers with heat and tailgate. The investment is in response to the increase in logistics activity in Cornwall and the region.
"Cornwall is acknowledged as one of the key supply chain hubs in Canada and that hub is growing," notes Steven Lindsay, Director of Business Development with Seaway Express. "We operate the closest transportation terminal to major distribution centres operated by Walmart and Shoppers Drug Mart, which enables us to provide on-time deliveries seven days a week."
Seaway Express provides reliable and efficient overnight transport service for both truckload and less-than-truckload shipments.  Beginning as a one truck operation, the company has grown over the years to its present fleet of over 70 pieces of equipment. Seaway Express also manages 150,000 square feet of warehouse space in Cornwall.
"Our warehouse enables our customers to store inventory minutes away to be released and shipped to the local distribution centres," said Mr. Lindsay. "We have also invested in advanced information systems which allow automatic notification of appointment times, delivery receipts, as well shipment updates."
About Seaway Express
Seaway Express was established in 1990 to provide reliable and efficient overnight transport service between Eastern Ontario and Québec. Equipment includes straight trucks, tractors, trailers as well as container chassis. The company has been acknowledged in the industry with the Carrier of Choice designation.