Seaway News Purchased by icimedias
April 24, 2019
Cornwall Ontario  – Cornwall's award-winning Seaway News has new ownership.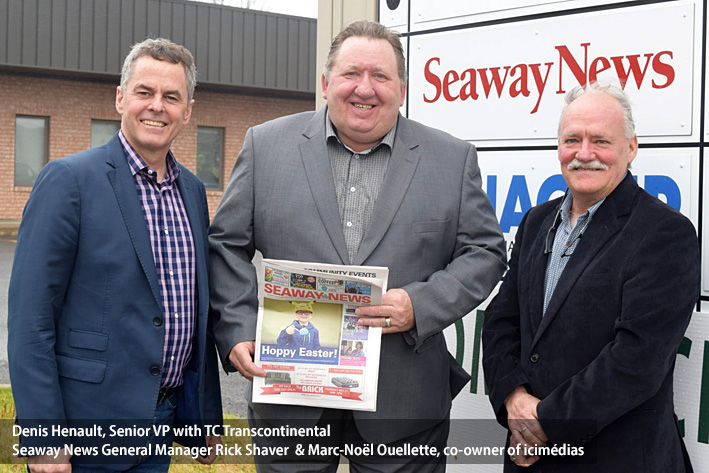 Seaway News was purchased by icimédias from TC Transcontinental who has owned an operated Seaway News since 2008. The transaction was finalized on April 24, 2019.
Seaway News is published once a week and distributed to over 39,000 homes in the Cornwall region. The newspaper has a staff of 11 people, all of whom have been retained by icimédias. icimédias has also committed to maintain the distribution of Seaway News, meaning that the paper will continue to be distributed weekly in the Ad Bag.
"We remain committed to covering local news and supporting the community that we all call home," says Rick Shaver, General Manager of Seaway News, who founded the newspaper along with Dick Aubry in 1985. "Bringing Seaway News back into the community with an association of all small papers will benefit our readers and advertisers, and we will continue to have best interests of the community at heart."
"We're pleased to announce today that we've sold this paper to icimédias," said Denis Henault, Senior VP of the Distribution Group at TC Transcontinental. "We think the readers and clients will be well served going into the future."
In April 2017, Transcontinental announced it would be selling 93 local and regional publications in Quebec and Ontario and their related web properties.
icimédias has purchased 21 of the above noted weeklies and web sites from TC Transcontinental. The company is owned and operated by industry veterans Renel Bouchard and Marc-Noël Ouellette, and designed the new web platform that Seaway News launched in February.
"Our approach is very local in content and style of management," said Mr. Ouellette. "We strongly believe that regional media companies play a crucial role in the development and well-being of the communities they serve."
In addition to publishing the weekly newspaper, Seaway News also publishes a number of special publications, including Cornwall Living and TASTE magazines. You can request a complimentary copy of both magazines by filing out our info request form.
About Seaway News
Seaway News was founded 34 years ago and has grown locally to become a leader in Eastern Ontario and is delivered to over 39,000 homes in Cornwall and area weekly.  You can follow Seaway News online: