Seaway Office Pro Chooses Cornwall
November 17, 2023
Cornwall Ontario – Cornwall now has more options for office supplies and office furniture with Seaway Office Pro.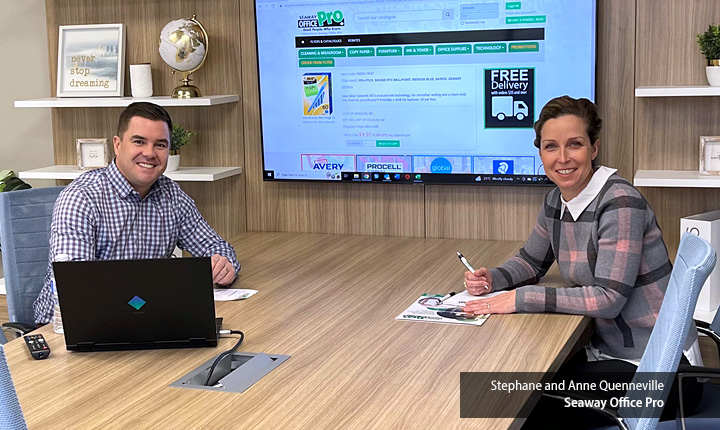 Seaway Office Pro opened earlier this year to serve the Cornwall community with quality office supplies and furniture.  The spacious location in the Cornwall Business Park offers bright office displays with a chance to test out some furniture before buying.
"We have been enjoying helping the community so far," says Stephane Quenneville, owner. "We work closely with our clients to make sure they are purchasing the best products to meet their needs and their budget."
Stephane is originally from Cornwall, and returned to the area with his wife Anne and family last fall. They pride their business on the level of service they can offer including next day delivery for office supplies and customized office space planning, including 3D renderings of your potential office layout.
Seaway Office Pro is located at at 2747 Marleau Avenue and is open Monday to Friday from 9am to 4pm and by appointment on weekends. 24hr shopping  is available online at:
About Office Pro
Office Pro dealers are members of a large Canadian buying group, bringing countrywide buying power to each Office Pro location. Office Pro members pass on the benefits of this buying power through everyday competitive prices, bringing value and providing uniquely local service to their communities.
Since 1970, Office Pro dealers have been looking after the needs of their customers. This 100% dealer-owned association of independent office products dealers has access to a growing selection of over 14,000 premium office products from more than 150 major manufacturers. From the latest leading-edge technology to a full line of office furniture and everyday office supplies, Office Pro can satisfy the stationery and office needs of any Canadian home or business.