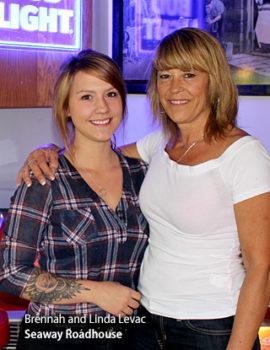 Seaway Roadhouse Opens in West-End
July 12, 2018
Cornwall Ontario – Seaway Roadhouse is open for business, providing patrons of Cornwall's west-end a different choice for drinks and meals.
Owned and operated by Linda Levac and Jack Champagne, the Roadhouse aims to create a sense of family and community for any guest who walks through the door. The restaurant is decorated in rock'n'roll and automotive memorabilia that creates a sense of nostalgia, and the couple's daughter Brennah Levac manages the bar.
"The Roadhouse was 30 years in the making," says Linda Levac. "I've been in the industry for 30 years and have always loved serving; I knew that it was time for me to create something of my own. The name and whole concept was inspired by family and we want you to feel that when you walk through the front doors."
The restaurant is located on Second Street West, just across from Cornwall Transit and in close proximity to the Benson Centre.
The Roadhouse offers a selection of traditional pub food such as chicken wings, jalapeno poppers and deep fried pickles. Their speciality is the Roadhouse Burger: a beef burger served on a sesame seed bun with bacon, cheese, and pickles, topped with jalapeno peppers and an onion ring.
The Roadhouse holds karaoke on Thursday and Sunday along with live music events which are announced on their Facebook page.
"We've been seeing all sorts of guests so far, we're welcoming everyone and already starting to see regulars", says Ms. Levac. "Stop in today and become part of the Seaway Roadhouse family."
Seaway Roadhouse is located at 830 Second Street West and is open Sunday through Wednesday from 11am – 12am and Thursday through Saturday from 11am – 2am.
You can reach them by phone at 613-937-0830 or message them through Facebook:
Small Business Success
Seaway Roadhouse is just one of dozens of small businesses that open in Cornwall each year. To learn more about starting your own business, check out the services of the Cornwall Business Enterprise Centre: