Seaway Valley Supply is Pumped to Get Started
March 22, 2019
Cornwall Ontario – Residents of Cornwall can now access product, advice and expertise from a new local fitness supplement and supplies store, Seaway Valley Supply (SVS). SVS will begin welcoming customers when they open for business Saturday, March 23rd.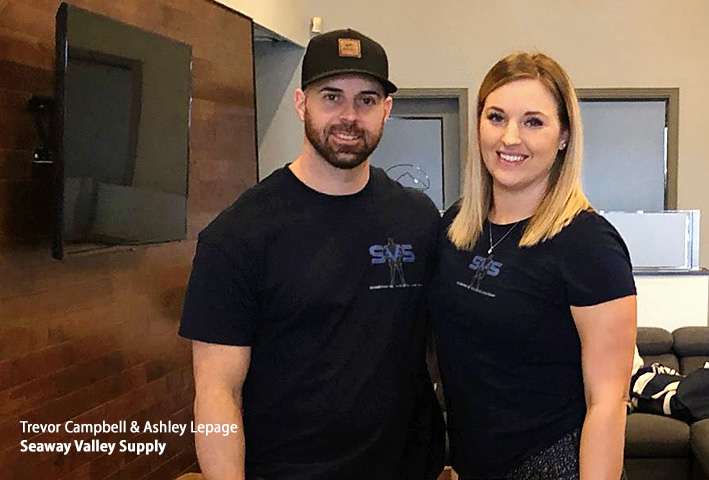 Fitness enthusiasts Trevor Campbell and Ashley Lepage have always enjoyed sampling new supplements and sharing their knowledge with others. In their efforts to source new quality products, they found themselves having to travel outside of Cornwall to access the niche supplements they were looking for. Finally, they both decided it was time to open a store of their own, resulting in the opening of SVS.
"We tried ordering online but you don't get the same customer service or expertise doing that," says Trevor Campbell. "You also lose the benefit of having product in hand once purchased. We decided about 6 months ago that this would be a challenging but exciting venture to take on together and we're excited that it's now becoming a reality."
SVS offers a wide selection of supplements that include proteins, pre-workouts, amino acids and protein snacks, along with fitness equipment and apparel that cannot be found anywhere else in Cornwall. It is also the first authorized Schiek and Rehband retailer in Cornwall. Both brands have unique offerings that will be attractive to locals with an interest in fitness.
"We'll provide the residents of Cornwall and the surrounding areas with a quality local supplement store with friendly, judgement free staff," says Ashley Lepage. "Our goal is to help fuel customers' fitness needs without having to leave the city of Cornwall. Being a small local business without the restrictions that come with being tied to a large chain allows us to cater and change our product mix to our customers' needs and desires."
Mr. Campbell and Ms. Lepage will operate SVS themselves in the beginning but see the potential to add staff as the business grows and builds its clientele.
"We are both local residents of Cornwall, and this will be our forever home" says Ms. Lepage. "Cornwall also made sense because it is a small community with a large fitness crowd. We are excited to share what we have created with everyone and want to thank all those who have already supported us."
SVS is located at 105 Emma Avenue, right next to the Pop Shoppe. Hours of operation are:
Tuesday – Thursday: 10-6
Friday: 10-8
Saturday: 10-6
Sunday: 11-5
Seaway Valley Supply can be reached by phone at (613) 933-1130 or online at: