Shiny Bud Blooms Across the City
January 22, 2021
Cornwall Ontario – Shiny Bud is flowering its way through Cornwall with the opening of the second location of the popular cannabis retail dispensary and the arrival of a third location on the horizon.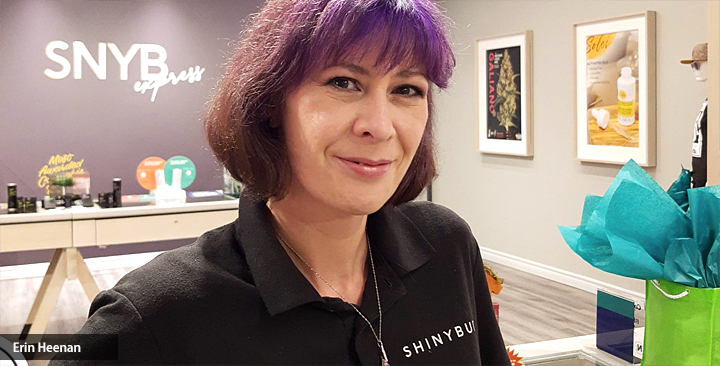 Shiny Bud's second Cornwall store is located at 621 Pitt Street. It is the ninth Shiny Bud location to open in Ontario.
"It was always the plan to open a second and third location of the franchise in the city, and the success from the first store really confirmed the need," says Erin Heenan, Shiny Bud Manager. "We have great clients and the additional locations will make it easier to serve everyone."
The new Pitt Street store is about three times larger than the Montreal Road store and offers a much larger selection and variety of products. In addition to supplying the same products clients have come to expect from the Montreal Road dispensary, Pitt Street also carries wide variety of other products and accessories, including top of the line vaporizers, grinders and glassware. While lockdown orders are in place customers can order the basics online and arrange for delivery or curbside pick-up.
Shiny Bud first arrived in Cornwall six months ago and has since made a significant investment in the city.  Each location employs 8 to 10 people, many of whom are former workers in the hospitality sector who have made the shift from servers and bartenders to their new, much-loved moniker of 'budtender.'
"A budtender is someone trained to provide advice on making cannabis selections," says Ms. Heenan. "During curbside only service, the budtenders don't get to provide as much support to our customers as we like, but clients can call the store with any questions before placing their order and we are happy to help."
Cornwall's third Shiny Bud store is set to open in spring or early summer of 2021 and will be more of an express service, offering the people of Cornwall multiple options for their cannabis needs.
"We are all very passionate about cannabis and how it can help people," continues Heenan. "We want to help remove the stigma around cannabis use, help educate local residents and increase the knowledge of the many benefits of this product."
Shiny Bud is open 7 days a week. Visit their website for more details on hours, curbside delivery options and how to order online.