Shop the Blocks Returns this Wednesday
November 4, 2019
Cornwall Ontario – Downtown is the place to be on Wednesday November 6 as dozens of merchants will be joining forces to showcase their newest collections and introduce shoppers to current trends.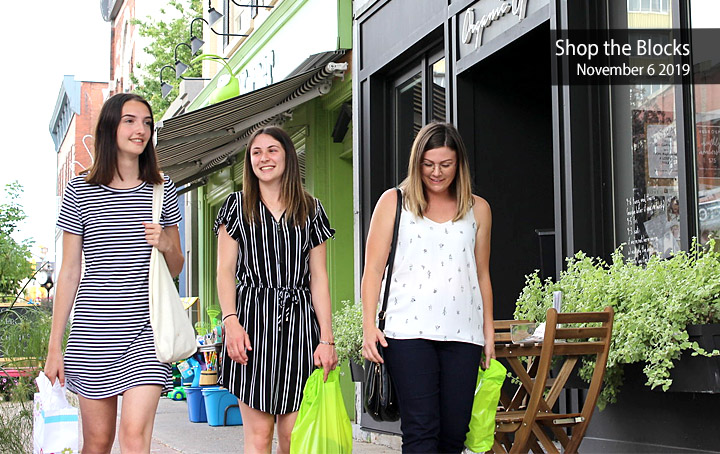 It's time to Shop the Blocks, and this year marks the 7th consecutive year for the event.
"Come and check out some of the best in food, art, healthy lifestyle options & more," says Chris Munro of Life's Little Pleasures. "There is always a little bit of magic in walking downtown on a lovely November night."
Shoppers will be able to take advantage of a variety of unique experiences, including:
new product launches
incentives
giveaways
prize draws
product demonstrations
and more!
The Shop the Blocks event takes place Wednesday November 6, from 5pm to 9pm.
"There is a different experience in each place," says Ms. Munro. "We have new merchants joining us for the very first time. Seek out some of the best in food, art, gift giving ideas, pampering, healthy lifestyle options and more."
Spend and win!
Turn your visit to Shop the Blocks into a chance to win two tickets to the Ottawa Senators/Philadelphia Flyers game on November 15. Shoppers making an eligible purchase at any of the participating businesses will receive one of 500 numbered hockey cards. A draw will take place on November 7th to select a winner.
Participating Businesses
Kings and Little Ones
Get a $20 gift card with retail purchase of $40 or more – offer available from open to close on the day of the event!
The Cline House Gallery
Check out some mini art collections created by amazing local artists. A perfect gift for the art lover on your list.
Kid's Korner
Enjoy special sales, door crashers and a draw at one of Downtown Cornwall's most iconic shops.
Studio 101
Enjoy 20 per cent off retail and 10 per cent off IPL and body sculpting service booked that evening. Refreshments will be served along with spa tours!
Bicycle World
Bicycle World will be staying open late with great sales on skis and snowboards and winter jackets as well!
Simply Jennifer
Stop by Simply Jennifer for some sweet treats! The Brine Cellar will also be on hand with some special samplings and fun.
Schnitzels European Flavours
Enjoy an extended Hoppy Hour from 3 pm to 9 pm with select draught and appetizers for $5!
The Maker Shop
Enter a prize draw at this cool shop featuring products from local makers!
Fantasy Realm
FREE ticket to CAPE 2020 with eligible purchase.
Pommier Jewellers
DJ on-site with spots lights and light show, in-store promos
Future Arts Centre (159 Pitt Street)
Basketmaker Nanci Ransom on site along with artists Dave Fadden, Linda Lou Phillips, Gail Howell and Ina Schneider. Visitors will also have the opportunity to check out the set for Vagabond Theatre's production of Murder By The Book by Duncan Greenwood and Robert King. Open from 4:00 to 9:00.
Fairy Sweet
Edward's Bistro
Tilly's
Pure Organic Spa
Cailuan Gallery
Love and Lee
Crush Lane
Dreamland
Celtic Treasures
Echo Trends
Laser Advance Spa
Life's Little Pleasures
Oasis Hair and Day Spa
Additional merchants will be joining the above lineup.
Free Parking
The City of Cornwall is offering complementary parking for the Shop the Blocks event. All paid parking (municipal lots and on-street at meters and pay and display machines ) is being offered as complementary between the hours of 5 pm and 6 pm in the Downtown Business Improvement Area. Parking in on-street spots and municipal lots is free after 6 pm!
More Info
More information can be found here: