Shop the Blocks Showcases Food, Art and Lifestyle
October 29, 2018
Cornwall Ontario – Downtown is the place to be on  Wednesday November 7 as dozens of merchants will be joining forces to showcase their newest collections and introduce shoppers to current trends.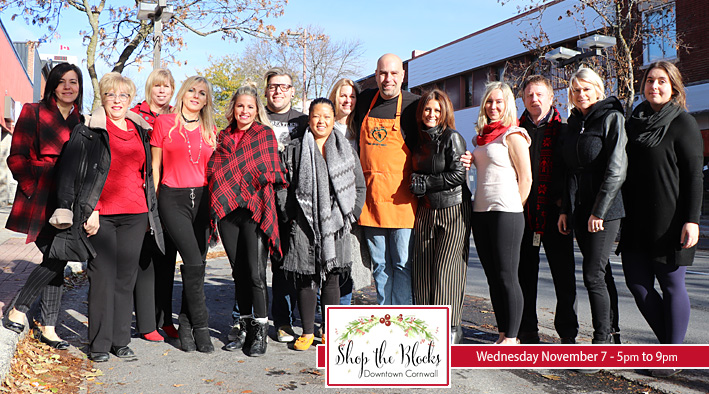 It's time to Shop the Blocks, and this year mark's the 6th consecutive year for the event.
"Come and check out some of the best in food, art, healthy lifestyle options & more," says Chris Munro of Life's Little Pleasures. "There is always a little bit of magic in walking downtown on a lovely November night."
Shoppers will be able to take advantage of a variety of unique experiences, including:
new product launches
incentives
giveaways
prize draws
product demonstrations
and more!
The Shop the Blocks event takes place Wednesday November 7, from 5pm to 9pm.
"There is a different experience in each place," says Ms. Munro. "We have new merchants joining us for the very first time. Seek out some of the best in food, art, gift giving ideas, pampering, healthy lifestyle options and more."
Participating businesses to date:
Life's Little Pleasures
Be Rare
Love Love Food
Crush Lane
Echo Trends
The Squire Shop
Kids Korner
Pure Organic Spa
Maker Gift Shop
Dreamland
Laser Advanced Spa
Pommier Jewellers
Edward's Bistro
Cline House Gallery
Kastners Mens & Ladies Wear
Kings & Little Ones
Fantasy Realm
Axxis Optical
The Loft Salon
Cailuan Gallery
Additional merchants will be joining the above lineup.
Free Parking
The City of Cornwall is offering complementary parking for the Shop the Blocks event. All paid parking (municipal lots and on-street at meters and pay and display machines ) is being offered as complementary between the hours of 4 pm and 6 pm in the Downtown Business Improvement Area. Typically fees are in effect until 6 pm on weekdays, but will end at 4 pm on November 7. Please note that safety related parking restrictions will still be in effect (no parking zones, fire hydrants, handicapped designated spaces etc).
More information can be found here: