SigmaPoint Joins Effort to Make Ventilators
September 2, 2020
Cornwall Ontario – SigmaPoint will be part of a national effort to produce 10,000 ventilators, partnering up with CAE and the federal government.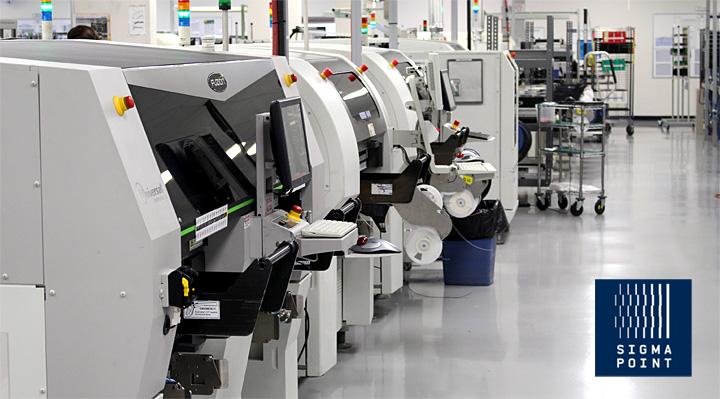 SigmaPoint is partnering with CAE on the CAE Air1 ventilator, which has been certified by Health Canada. This made-in-Canada ventilator is destined for hospitals across the country where it will be used in the fight against COVID-19.
"SigmaPoint is honoured to be selected to play a role with CAE to help save lives within Canada," says Dan Bergeron, CEO of SigmaPoint.  "We will be doing our part by supplying critical electronic components to CAE's Air1 Ventilators. This contract, and being an integral part of this team, gives all of our employees a strong sense of purpose in helping to battle this disease."
Certification comes two months after CAE signed a contract with the Government of Canada to manufacture and supply 10,000 ventilators, which are to be distributed to intensive care units across the country.
"Since the beginning of the pandemic, CAE was the first to receive certification from Health Canada for an entirely new ventilator. It was created and manufactured in Canada, and we are proud that it will help save lives in the fight against COVID-19," said Marc Parent, CAE's President and CEO. "The agility shown by CAE in designing and succeeding to have the CAE Air1 ventilator certified in a fraction of the usual time is a testament to the strength of CAE's innovation, engineering talent, and advanced manufacturing capabilities. I am proud of our team for rising to this humanitarian challenge and strengthening Canada's self-sufficiency in the medical field during these unprecedented times."
The CAE Air1 ventilator can deliver pressure control, volume control and pressure support ventilation using room air or pressured oxygen. It uses an intuitive, simple touchscreen interface and is bundled with on-demand ventilator training, adaptive e-learning modules related to COVID-19 patient management, and 24/7 customer support. It will support Intensive Care Units patients treated for COVID-19.
"CAE, one of Canada's leading aerospace firms, stepped up early on with their commitment to produce a made-in-Canada ventilator design that will help save the lives of COVID-19 patients battling the disease. Today's announcement is a testament to CAE's agility and innovative capability. I am glad that we were able to support CAE in accelerating the design and manufacturing of CAE Air1 ventilator that is now ready to be used by our frontline healthcare workers," said the Honourable Navdeep Bains, Canada's Minister of Innovation, Science and Industry.
The CAE Air1 ventilator has over 500 parts, many of which are supplied by over 130 Canadian suppliers, including SigmaPoint and MPiQC in Cornwall.
About SigmaPoint Technologies
SigmaPoint Technologies is an Electronic Manufacturing Services (EMS) partner supplying end-to-end assembly services for intricate electronic products within the computer, telecommunications, defence, alternative energy, medical, industrial, and transportation markets. The company is headquartered in a state-of-the-art manufacturing building in the Cornwall Business Park.