Simply Wellness opens expanded space in Downtown Cornwall
August 6, 2020
Cornwall Ontario – Given the challenges that exist in today's world, it's never been more important to practice self-care. One local business is making it easier for people to do just that – right in the heart of the city.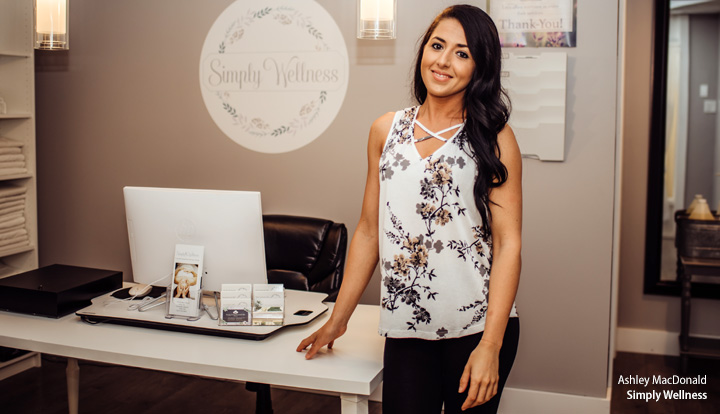 Simply Wellness has moved into an expansive new space in Downtown Cornwall at the corner of First and Sydney streets, creating a new oasis for customers seeking some comfort and pampering.
The new 4,000 square-foot space has been extensively renovated and the larger surroundings have allowed the massage therapy and health spa to expand into a wide range of wellness and beauty services including esthetics, Naturopathic services, natural healing practices and much more.
"We've seen an increase in the need for massage services as well as beauty services in our community. Many people are finally taking the time to include self-care into their routine and we want to be prepared to help," said Simply Wellness owner Ashley MacDonald. "Our philosophy is to promote happy, relaxed and comfortable clients so that they can concentrate better, work harder, feel better physically and mentally, and in turn, give those feelings back to their family, friends and community."
The young entrepreneur and Cornwall native opened Simply Wellness in 2016 and the business name became the philosophy and vision behind everything they do.
"When I considered what Cornwall would benefit from, simplicity and quality service stood at the top of my list. Simply Wellness told our story because wellness does not need to be complicated. We make it simple," MacDonald added. "Our clients love being pampered to escape the stress of everyday life. We pride ourselves on providing excellent client service and convenient booking processes."
With the expansion, Simply Wellness has grown to a staff of eight and that number could increase even more as the business settles into its new digs.
"I've had so much assistance with setting up this business and getting us to where we are within the last 4 years," MacDonald said. "With the help of my family, friends and the support of our community, we truly have made it further than I could have ever imagined!"
Simply Wellness is located at 41 First Street East and is open Monday to Saturday by appointment only. The business has implemented additional safety measures and protocols to ensure the safety of both customers and staff during the COVID-19 pandemic.
For additional information on Simply Wellness, please visit:
Heart of the City CIP
The new home of Simply Wellness was restored by developer Aaron Bell with assistance from the City of Cornwall's Heart of the City Community Improvement Program (CIP). The Heart of the City CIP provides seven different sources of support to business owners looking to upgrade their properties. They include loans (forgivable or interest-free), tax reimbursements or matching grants for things such as signs, facades, tipping fees and the like.
In 2019, roughly $400,000 was invested in 20 different development projects through the Heart of the City CIP. That funding helped to leverage over $1.15 million in private sector investment in the community.
"The whole point (of the CIP) is to support new businesses and residential units and by extension, jobs and commercial assessment," said Dana McLean, Development Coordinator with the City of Cornwall. "It's aimed at bringing people Downtown to shop, work and live."
For additional information on the Heart of the City CIP, please visit: