SmartCentres Expands Cornwall Retail Plaza
September 5, 2019
Cornwall Ontario – Work is underway on the expansion of the SmartCentres retail plaza at the corner of Ninth and Cumberland.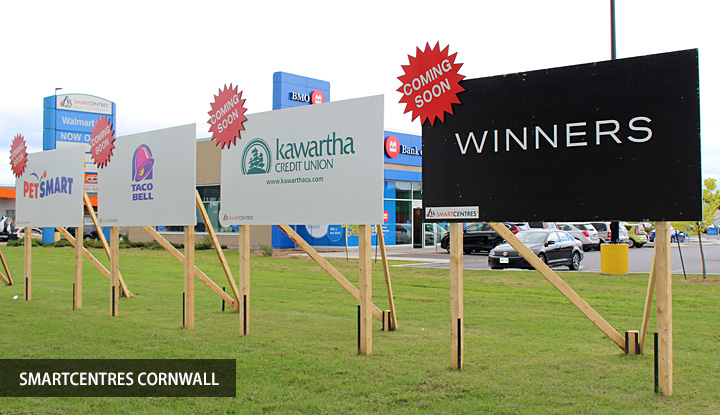 Signs have been erected welcoming four new tenants: Winners, PetSmart, Taco Bell and Kawartha Credit Union. Once completed, the new stores will add another 45,000 sq.ft. to Cornwall's retail landscape. The estimated value of the new construction is over $7 million.
The plaza is anchored by a 154,000 sq.ft. Walmart Supercentre which opened in 2015.  Dollar Tree Canada is also located on the site, as is an A&W restaurant. In 2018 the Bank of Montreal consolidated its Cornwall branches on the site.
The plaza is a former industrial site and has been remediated with financial assistance under the City's Brownfield Program. The result has been a clean site which has attracted investment resulting in new tax revenues for the City.
SmartCentres has additional retail opportunities on the Cornwall plaza , ranging from 1,500 to 10,000 sq.ft.
About SmartCentres
SmartCentres is one of Canada's largest real estate investment trusts with total assets of approximately $9.6 billion. It owns and manages 34 million square feet of retail space in value-oriented, principally Walmart-anchored retail centres, having the strong national, regional and neighbourhood merchants.