Sodexo Brings Leadership Conference to Cornwall
November 13, 2018
Cornwall Ontario – Over 400 leaders of Sodexo Canada are in Cornwall this week for the Rise Up conference. It is the first time that Sodexo has held its leadership conference in Cornwall.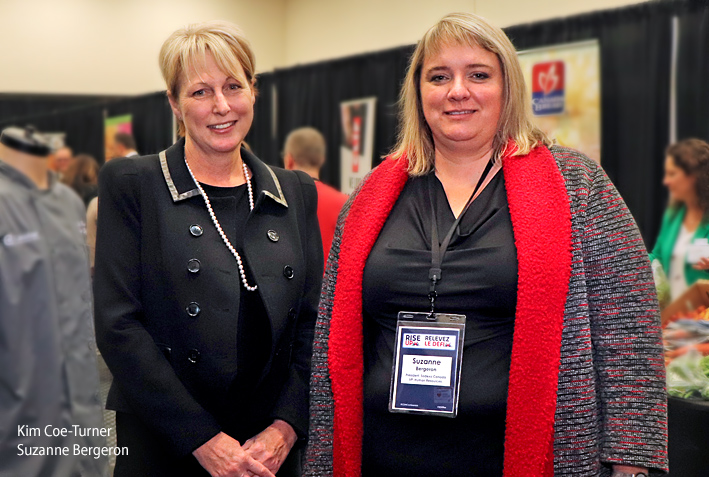 "We are very happy to bring the conference to this wonderful facility," says Suzanne Bergeron,  Sodexo Country President for Canada. "Everything is on-site, which makes for a very productive conference."
Sodexo is one of the world's largest multinational corporations, with operations in 80 countries. Sodexo provides  food services and facilities management services at the NAV CENTRE.
"This conference helps to showcase Cornwall and this world-class facility to people from across Canada and the USA," says Kim Coe-Turner, General Manager of the NAV CENTRE.  "Our team has worked very hard to welcome our colleagues at Sodexo."
The 3 day conference provides a number of education sessions along with a trade show that brought 101 leading food companies to Cornwall, including Sysco and Canada Bread.
In addition to the NAV CENTRE, Sodexo provides on site services in Cornwall at St. Lawrence College and at the Cornwall Community Hospital.
About Sodexo
Sodexo Canada  has been delivering on-site services in Canada for over 40 years. Today, this includes nearly 300 locations for more than 175 clients in the Healthcare, Education, Corporate Services and Energy & Resource sectors. The company's 10,000 employees work together to deliver a wide range of services including food services, technical building maintenance, concierge services and fitness centre management.
Sodexo Canada's commitment to diversity, inclusion and a focus on gender equality helped the company earn WEConnect International's 2018 Corporation of the Year Award in Canada.
About NAV CENTRE
The NAV CENTRE is a training and conference venue owned and operated by NAV CANADA. It offers access to 535 guest rooms, 70 state-of-the-art classrooms and meeting rooms, as well as an auditorium. Other amenities include a gymnasium and fitness centre as well as multiple dining options including the Propeller Restaurant and Jet-Set Pub. The NAV CENTRE is also an accredited member of the International Association of Conference Centres (IACC), adhering to globally-recognized standards in hospitality service.