Southbridge Cornwall Opens 160 Much-Needed Long-Term Care Beds
April 13, 2023
Cornwall Ontario — The construction of a new long-term care home in Cornwall is completed and the home is now welcoming residents. This is part of the Ontario government's $6.4 billion commitment to build more than 58,000 new and upgraded long-term care beds across the province by 2028.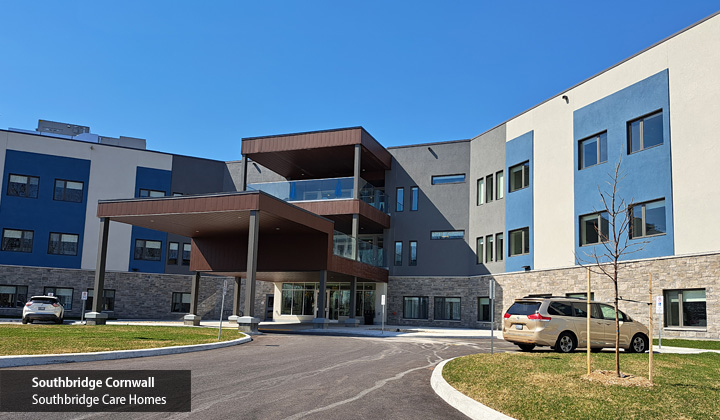 "The opening of Southbridge Cornwall represents a significant and much-needed investment in long-term care in our community," said Justin Towndale, Mayor of Cornwall. "The additional beds and the creation of new jobs are positive contributions to our future growth and prosperity."
Construction of Southbridge Cornwall began in December 2020 and its first residents are being welcomed today. The new home provides 160 safe, modern, long-term care beds in Cornwall. The home is licensed to Southbridge Care Homes and is operated by Southbridge Health Care.
"The health and safety of our residents is our number one priority," said Ryan Bell, CEO of Southbridge Care Homes. "We thank Minister Calandra and the Ministry of Long-Term Care for the opportunity to enhance and prioritize long-term care in Ontario with this project in Cornwall. We are excited that residents are moving into our new home where they will experience our modern, safe and community-minded approach to living."
The new facility is nestled in a natural setting just off of Nick Kaneb Drive in the eastern sector of the city.
"Congratulations to Southbridge Cornwall on the opening of their brand new home. Our government is fixing long-term care and a key part of that plan is building modern, safe, and comfortable homes for our seniors," said Paul Calandra, Minister of Long-Term Care. "This new home is a significant milestone for the City of Cornwall and the United Counties of Stormont, Dundas and Glengarry – and means that 160 residents will have a new place to call home, near their family and friends."
Southbridge Cornwall features design improvements for residents, including larger resident common areas and air conditioning throughout the home. The design is centred around 'resident home areas' that create a communal environment for up to 32 residents with dining and activity areas, lounges and bedrooms.
"The opening of Southbridge Cornwall represents an important investment and will have a significant impact on the lives of many people in our community," said Nolan Quinn MPP for Stormont—Dundas—South Glengarry. "160 residents will now call Southbridge Cornwall home, allowing them to remain close to their families while getting the care they need and deserve. The planning, construction and opening of this new long-term care home has also created rewarding employment opportunities for the people of our community. Thank you to Minister Calandra and his team for their hard work and commitment to fixing Ontario's long-term care system."
In addition to projects like Southbridge Cornwall, Ontario is supporting another seven projects in the City of Cornwall and the United Counties of Stormont, Dundas and Glengarry, including the development of long-term care homes in Long Sault, Maxville, Winchester, Alexandria and Lancaster. Across the region, these eight projects will provide 359 new and 697 upgraded long-term care beds, for a total of 1,056 beds built to modern design standards.
The government is fixing long-term care to ensure Ontario's seniors get the quality of care and quality of life they need and deserve both now and in the future. The plan is built on four pillars: staffing and care; quality and enforcement; building modern, safe and comfortable homes; and connecting seniors with faster, more convenient access to the services they need.
Quick Facts
The Ontario government is on track to build 30,000 much-needed new long-term care beds in the province by 2028 and is redeveloping older beds to modern design standards. Through a $6.4 billion investment, Ontario has 31,705 new and 28,648 upgraded beds in the planning, construction and opening stages of the development process. This will help increase overall bed capacity, address long-term care waitlists and hallway health care, and provide our seniors the care they deserve.
Building more modern, safe and comfortable homes for our seniors is part of the Government of Ontario's Fixing Long-Term Care Act, 2021.
The province is taking innovative steps to get long-term care homes built, including modernizing its funding model, selling unused lands with the requirement that long-term care homes be built on portions of the properties, and leveraging hospital-owned land to build urgently needed homes in large urban areas.
The Ontario government is providing a supplemental increase to the construction funding subsidy to stimulate the start of construction by August 31, 2023 for more long-term care homes across the province. Not-for-profit homes have the option to receive a portion of the funding as an up-front construction grant payable at the start of construction. More information about funding for long-term care home development is available here.
As of November 2022, more than 39,000 people were on the waitlist to access a long-term care bed in Ontario. The median wait time is 126 days for applicants to be placed in long-term care.
Jobs at Southbridge Cornwall
Southbridge Cornwall is currently hiring.  You can find links to these and other healthcare employmen opportunities on the ChooseCornwall Job Board.
ChooseCornwall Job Board
About Southbridge Care Homes
Since 1967, Southbridge Care Homes  have been building a foundation of innovation and success for operating long term care homes and retirement communities.