Spark Program Returns to Fund Tourism Ideas
September 30, 2021
Cornwall Ontario – A program aimed at sparking and supporting innovative tourism ideas for Akwesasne, Cornwall & SDG Counties is back for a second round.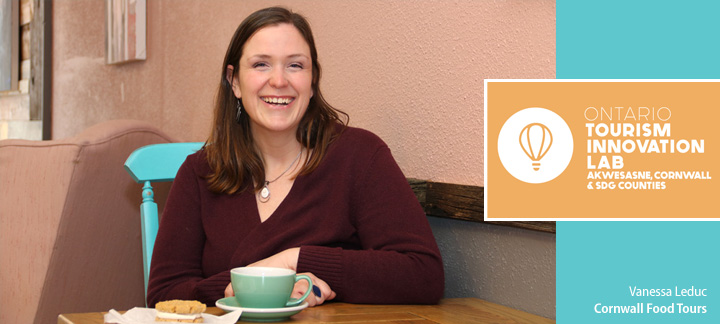 The Spark Mentorships & Grants Program matches selected applicants from the region with a tourism mentor and provides a $3,000 grant to help take their new tourism idea to the next level of development.
The program's goal is to find, foster and support new tourism ideas, experiences and partnerships that will enhance current offerings, address gaps or challenges, motivate travel and longer stays, and increase year-round visits.
Last year's Spark winners included Cornwall Food Tours operated by Vanessa Leduc, Fields of Gold, a new agri-tourism destination operated by Jacob and Stephanie Vogel and Ky-Lee Hansen of Oneida Hospitality Group, a cultural/culinary programming business.
"I am proud to support such a collaborative, and innovative program that is sure to bring new ideas and life to Cornwall, Akwesasne and SDG Counties," said Cornwall Mayor Glen Grant. "This program is a great way to focus on the tourism industry in a time that has been particularly hard for tourism-based businesses. I am eager to see what new initiatives may come from the program."
Applications are encouraged from entrepreneurs, small businesses and non-profit organizations based in Akwesasne, Cornwall and SDG Counties from September 29th to November 5th, 2021. Following a review process, the top applicants will be invited to a Pitch Session where three winners will be selected.
"Our tourism assets in SDG are part of the fuel that drives the economic engine in our region. Entrepreneurs and business owners add to the successes our region enjoys through their hard work and dedication. I encourage those who may be planning a new expansion this year, or introducing a new tourism-based business, to engage the Spark Mentorships and Grants Program to help with that process" said SDG Counties Warden Allan Armstrong.
Innovation in the tourism industry is critical for the region to respond, adapt and recover from the significant impacts and evolving travel landscape as a result of the COVID-19 health and economic crisis.
"We are pleased to continue to partner with our neighbors to enhance and support local tourism. Our region is a vast multicultural region, and we pride ourselves on the many small businesses in our communities," said Akwesasne Grand Chief Abram Benedict.
The Akwesasne, Cornwall & SDG Counties Spark Program is being led by the Mohawk Council of Akwesasne, Cornwall Tourism, Cornwall Tourism Development Fund, SDG Counties, and the Tourism Innovation Lab.
"We had the pleasure of collaborating with our partners to support our first round Spark winners from Cornwall & SDG Counties," said Justin Lafontaine, Program Lead of the Tourism Innovation Lab. "We are excited to welcome the Mohawk Council of Akwesasne as a partner this year and to see the new tourism ideas that will come forward to further enhance the region's tourism offerings and drive innovation."
How to Apply
Got a tourism idea? Applying to the Spark program is easy! All you have to do is submit a 1,000 word (or less) document and an accompanying video introducing yourself and showcasing your idea! The deadline to apply is Friday, November 5th. You can find the full details on how to apply by visiting the Akwesasne, Cornwall & SDG Counties Spark website.
What are we looking for?
We are looking for new tourism experiences, product ideas and/or collaborative partnerships based in Akwesasne, Cornwall & SDG Counties that address one or more of the following:
Enhances current tourism offerings
Creates new, high-quality tourism experiences
Addresses gaps in tourism products and services
Motivates travel, longer stays and repeat visits
Increases year-round visitation and tourism spending
While there are no specific categories, local tourism officials are especially interested in new tourism ideas related to accommodations, agri-tourism, arts, culture & heritage, culinary, cycling, Indigenous, outdoor adventure, as well as ideas for new attractions or anchor destinations.
What is a tourism idea?
Experiences, products and partnerships that motivate travel to your region by people living more than 40km away, across the provincial border or internationally, and provide engagement, participation, purchasing and/or travel related opportunities while they are visiting.
More Info
Details on eligibility, prizing and how to apply are available on the Akwesasne, Cornwall & SDG Counties Spark website (www.tourisminnovation.ca/acsdg).