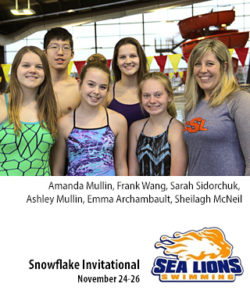 200 Swimmers in Cornwall for Snowflake International
November 23, 2017
Cornwall Ontario – Over 200 athletes from Eastern Ontario and Western Quebec are expected to don their caps and goggles for a swim meet this weekend at the Cornwall Aquatic Centre.
Dubbed the CSL Snowflake invitational, the event allows young swimmers, aged 6 to 18, to experience the thrill of a competition. The Cornwall Sea Lions SwimClub will be hosting the event, with 48 of their own club members participating.
"The Snowflake is a great experience for the participants as competition is an important step in improving any athlete's skill level," says Sheilagh, McNeil. "Throughout the weekend the Sea Lions will be helping our guests get to know Cornwall a little bit better."
The 3-day event starts Friday evening with the first race at 5:00 p.m. and ending Sunday early evening. Featured events include:
50m Free
50m Breast
100m Fly
100m Back
200m Free
200m Breast
40m x 50m Free Relay
400m IM – Individual Medley
800m Free
The Sea Lions have been a staple in Cornwall's sporting community for many decades and are steeped in a tradition of developing swimmers who have gone on to represent our community at National and International Competitions. In recent years swimmers have received scholarships to both US Colleges and Canadian Universities.
Alumni include Hannah Riordan (Bronze Medal 2012 Olympic Trials, Auburn University), Tess Simpson (7th 2012 Olympic Trials, Texas A&M).  More recent alumni are Emilie Contant (Western University), Meghan Suffel (University of New Hampshire) and Claudia Duguay (Drexel University).
MacKenzie Wright was snapped up by McMaster University after her performance last year.
About the Cornwall Sea Lions
The Cornwall Sea Lions Swim Club is committed to developing competitive swimmers. Children receive qualified technical advice within a framework of care, respect, fitness and fun. The goal of our team is to provide every member an opportunity to improve swimming skills and achieve success at their level of ability, from novice to international competitor.
For more information, please visit:
About the Aquatic Centre
The  Cornwall Aquatic Centre is a modern a 6-lane 25 metre indoor pool overlooking the St. Lawence River. The Centre is open year-round and is located at 100 Water St East in Downtown Cornwall.
Categorised in: Sports