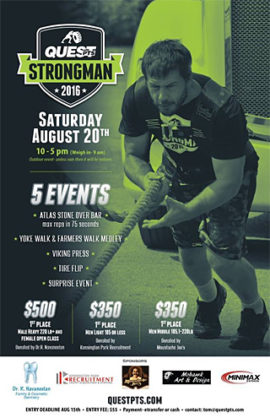 40 Athletes to Compete for Cornwall Strongman Strongwoman Honours
August 17, 2016
Cornwall Ontario – Faster, Higher, Stronger.
With the Olympics currently underway in Rio, the attention of Canadians has been focused on sports and athletics this summer, with many asking the questions: How fast? How high? How strong?
Cornwall's Tom Irvine is offering the answer to the last question this Saturday as he hosts a Strongman/Strongwoman competition at Quest Gym on Montreal Road.
Over 40 competitors are expected to take part in the event which features 5 actvities:
Atlas Stone Over Bar
Viking Press
Yoke Walk and Farmer's Walk Medley
Tire Flip
Surprise Event
"We've had a very good response to the event, and had to close registrations early as we reached the maximum number of athletes," says Mr. Irvine. "These are popular events as they challenge both mentally and physically, but are also fun events to participate in."
The event will be held outside in front of the Quest Gym on Montreal Road from 10am to 5pm. The event is open and free to the public.
"In addition to local athletes we have a lot of people coming from out of town, including from Windsor, Toronto, Ottawa and Montreal," says Mr. Irvine. "Out of town athletes will be taking advantage of our great hotels and restaurants – not to mention Foodfest and Musicfest."
The amateur event does offer the following prizes:
$500 – Men Heavyweight
$500 – Women Open Class
$350 – Men Middleweight
$350 – Men Lightweight
Other prizes will be awarded.
Mr. Irvine organized a similar event in 2012.
"These competitions are a great way to to encourage strength and competition in a healthy environment."
Heavyweight Competitors (over 220 lbs)
Marc Sicard
Alexandre Kuhn
Mike Murray
Chad Parthenais
Bruce Hellwinkel
Matt Robichaud
Sean Crowe
Dom Renaud
Lance Telshow
Middleweight Competitors (185-220 lbs)
Clayton Eamer
Patrick Dumais
Zach Maguire
Ryan Belmore
Nick Montour
Adrian Kimmett
Brett O'Drowsky
Bill Heney
Jack Harries
Terry Mazerolle
Shawn Roach
Waylon Francis
Lightweight Competitors (under 185 lbs)
David Stewart
Kyle Essery
Adam Cooper
Cameron David
Chris Sousa
Tylor Boileau
Chad Primeau
Donald Beaulieu
Corey Poapst
Kyle Lauzon
Ladies Competitors
Christina Richardson
Karine Parthenais
Miranda Gibson
Katherine Duckworth
Sheeba Singh
Alicia Jones
Catherine Toupin
About Quest
Quest Strength Training Gym and Massage Therapy offers the equipment and environment to provide optimal results for athletes, weekend warriors, and the regular person looking to improve health and wellness. Tom Irvine is one of the most sought after strength and conditioning coaches in the health and fitness industry, and is wife Jessica is a registered massage therapist.
For more information please visit:
Categorised in: Sports