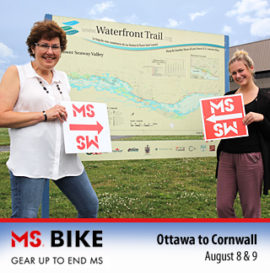 750 Cyclists Heading To Cornwall For MS Bike Tour
July 14, 2015
Cornwall Ontario – One of Eastern Ontario's largest cycling events is poised once again to visit the Seaway City.
Over 750 cyclists will head to Cornwall on August 8thand 9th as part of the annual MS Bike Tour. The event will allow cyclists to ride from Ottawa to Cornwall in order to fundraise for the MS Society.
"Our numbers are higher than ever!", said Karen Torrie-Racine, spokesperson for the Cornwall & District Chapter. "The ride is very appealing, especially as you get closer to Cornwall with the fantastic Waterfront Trail running along the beautiful St Lawrence river – what more could a cyclist want!"
The Bike Tour features a well-balanced ride with a combination of hills, flats and incredible scenery as cyclists depart from the Metcalfe Arena, following country roads south through Crysler, Finch, Ingleside and Long Sault. The first day of the event will conclude at the NAV Centre. Cyclists have the choice to bus back to the Metcalfe Arena or to continue cycling the following day. Many distances are available to the cyclists participating in this event. These distances are 80km, 100km or 125km on August 8th and 65km or 90km on August 9th.
"The majority of cyclists stay at the NAV CENTRE, which offers a full service fitness centre, spa, restaurant and pub – all overlooking the River," notes Ms. Torrie-Racine. "What a perfect way to end a great bike ride."
This is the fourth year that NAV CENTRE has hosted the MS Bike Tour.
"Our staff always look forward to greeting the cyclists, especially as this for such an important cause," said Kim Coe-Turner, General Manager of the NAV CENTRE. "Saturday night is always a celebration of a great effort by the cyclists and we are happy to offer a bit of comfort to help them recharge their batteries."
The MS Bike Tour is an all inclusive event. Hearty meals and welcoming accommodations are included with the registration fee. Experienced Tour Leaders will guide cyclists along the route and professional bike repair is available on both days of the event. Furthermore, first aid attendants and luggage transportation will be available to cyclists.
Registrations fees range from $50 to $95 depending on the tour selection and accommodation requirements. Make it a team event and invite your friends, family and co-workers to join you.
More information can be found online at www.MSbike.ca
Over 10,000 cyclists take part in the annual MS Bike Tour, which holds events from coast to coast across Canada. The MS Society chapters in Cornwall and Ottawa work together to plan the Ottawa-Cornwall event. Funds raised from the bike tour will assist the MS Society in its mission to provide services and support to residents and families living with MS, in addition to MS research.
"Anybody can join and participate," added Ms. Torrie-Racine. "All you need is a bike and a passion to end MS!"