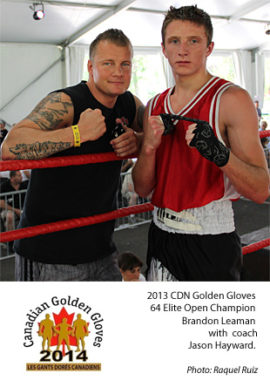 A Week of Olympic Style Boxing Returns To Cornwall
July 3, 2014
Cornwall Ontario – For some boxers it is the possibility to enhance their boxing skills, have some good bouts with boxers from other provinces and gain valuable experience. For others, it is the chance of winning the Canadian Golden Gloves and earning the right to compete at the Nationals this coming October in Toronto. But for all of the 2014 Canadian Golden Gloves competitors, it is without doubt, the only open international tournament of this caliber in Canada.
From July 8th to the 13th on the banks of the St. Lawrence River, two boxing rings standing in a very large tent on the grounds of the NAV Centre, will be the home of the tournament that was established in 2013 and has attracted over 200 boxers, coaches and officials. This year, Boxing Canada and the hosting venue, are expecting close to 300 participants.
Cornwall, the city where the Canadian Golden Gloves is making history, is looking forward to the tournament, according to Mayor Bob Kilger.
"The Canadian Golden Gloves is an important athletic competition and therefore it brings national and international attention to Cornwall. People from around the world will get to know our City a little bit better, and find out what Cornwall has to offer," said Bob Kilger.
For boxers like 64kg Brandon Leaman from NL, who comes to Cornwall to defend his title, the Golden Gloves was his first major national tournament and gave him the confidence to participate in the Nationals in Regina, October 2013.
"I'll be there, no doubt. Can't wait," said Leaman.
"Last year it was an amazing tournament. I can't complain about anything; accommodation, food, venue, people, the organization was awesome." said 19-year-old Leaman.
Robert Crete, Boxing Canada executive director feels that this tournament is a great opportunity to motivate the new generation of boxers.
"Boxing Canada is pleased to once again be hosting this prestigious event at the NAV CENTRE in Cornwall," said Crete. "The venue, facilities, area and amenities are ideal for an occasion of this magnitude."
The 2013 Canadian Golden Gloves crowned 55 champions. 99% of the boxers had at least 2 bouts during the tournament and 75% had 3 bouts. "It is great exposure for the boxer, they will gain great experience," said Daniel Trepanier, Boxing Canada High Performance Director. "It's a great tournament for the long term development of Boxing Canada."
This Golden Gloves tournament is for both male and female boxers. Junior, youth and elite divisions will be contested and all competitors will wear headgear, however the new 10 point system will be used to score the bouts as well as the other new rules introduced by AIBA in March 2013.
"We are excited and proud to have a tournament in Canada where novices and open boxers can compete in such a large scale and gain experience," said Pat Fiacco, Boxing Canada President.
Registration is sitll open for the championship. Clubs and individual participants are urged to reserve early, to ensure premium accommodations.
More information is available on the new Golden Gloves website:
Excitement is growing. You can interact with organizers, athletes and fans via Twitter by using the hastag #CDNGG2014 and tweeting @Boxing_Canada
About Boxing Canada (CABA)
Boxing Canada is the National Sport Governing Body of Amateur Boxing in Canada, and is affiliated with the International Amateur Boxing Association called Association internationale de boxe amateur (AIBA). Boxing Canada exists to promote the sport of amateur boxing in the purest Olympic tradition, and in doing so cultivate the development of our athletes in sportsmanship and fair play. Learn more about Boxing Canada at www.boxing.ca.
About the NAV CENTRE
Located on the scenic shores of the St. Lawrence River in Cornwall, the NAV CENTRE is a full service conference centre offering access to 550 guest rooms and 70 dedicated state-of-the-art meeting rooms. The Centre, which is owned and operated by NAV CANADA, can accommodate small groups of five to large groups of up 500. The NAV CENTRE is also an ideal location for organizations with longer-term training or workgroup requirements, with ample classroom space and affordable all inclusive plans to make your offsite initiatives a success. The NAV CENTRE is an accredited member of the International Association of Conference Centres (IACC), provided for adhering to globally recognized standards in hospitality service. Learn more about the Centre at www.navcentre.ca