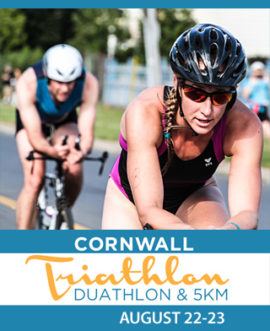 Annual Cornwall Triathlon Ready to Roll
August 20, 2015
Cornwall Ontario – Over 650 athletes are expected to lace up their running shoes this weekend to participate in the Cornwall Triathlon, making it one of the biggest sporting events in the region.
The Triathlon has grown to become a highly-competitive event attracting athletes from across Canada and the United States, and this year is no exception. The list of participants also includes some world class athletes – including Joanna Brown, Alex Hinton and John Rasmussen – all triathletes in the Canadian Development Team.  The course record holder, Chuck Perreault from Quebec, will also be back. The Cornwall Triathlon is seen as a tune-up for the ITU World Cup race in Edmonton on Labour Day weekend.
"It is always nice to see athletes at the highest level compete," says Race Director Rob Allen. "It helps inspire some of our younger athletes as to what is possible in the sport."
The Cornwall Triathlon has emerged as a popular event for a number of reasons – not the least of which is the scenic beauty of the course along the St. Lawrence River. The athletes themselves have helped promote the event through word-of-mouth.
Beyond the course, another big draw is the prize purse. The Cornwall Triathlon offers $4000 in prizes, making it the biggest prize race in Ontario outside of those organized by the World Triathlon Corporation.
The sport of triathlon features the sports of running, cycling and swimming, yet Cornwall Triathlon organizers will also present a number of other races including a Duathlon (running and cycling) and a 5km run.
The entire weekend is filled with opportunities for athletes of any age and ability, including events organized just for kids.
"There is something for everyone, and there is no better place to run cycle or swim," said Mr. Allen. "It's a fun sport to watch, and our course is really good spectators."
The Cornwall Triathlon features traffic free courses in the city core on both event days – August 22 and 23.  Saturday events include a Duathlon of varying distances for ages 14 & under and a Triathlon of varying distances with a pool swim for ages 7-14. The Sunday events include 5km run, Try-A-Tri, Sprint, Olympic and Sprint Relay Triathlon distances and a Sprint Duathlon.
Olympic Triathlon
This event features a 1500m swim, a 40km bike and a 10 km run.
Sprint Triathlon
This event features a 750m swim, a 20km bike and a 5 km run.
Try-A-Tri
This indroductory event features a 200m swim, a 10km bike ride and a 2.5km run.
Sprint Duathlon
This event features a 2.5km run followed by a 20km bike and a 5 km run.
Athletes can register for the events up to and including race day.
The Cornwall Triathlon, presented by Dr. Rachel Navaneelan, has partnered again with the Boys & Girls Club of Cornwall and SDG. Proceeds from the event will be provided to the Boys and Girls Club to further enhance programming and operations for the youth in the Cornwall area.
The Cornwall Triathlon relies on over 200 volunteers to make our weekend triathlon a gem in Eastern Ontario and Western Quebec.
Additional Info
Learn more about the Cornwall Triathlon by checking out the following resources: