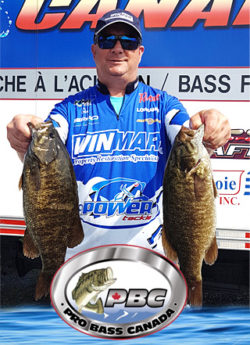 Another ProBass Event Hits Local Waters
August 3, 2017
Cornwall Ontario – The two last qualifier tournaments for the Pro Bass Canada fishing tour will be taking place in Cornwall.
The first weekend of August will be a busy one, with two different tournaments happening separately on Saturday and Sunday.
Half of the anglers down for the weekend will be competing in The Pro 150 Max tournament. The event takes place on Saturday August 5th between 6:30 am and 4:00 pm at Guindon Park in Cornwall.  The rest of the fishermen will have their chance on Sunday to compete in the Elite Tournament, taking place between 6:30 am and 5:30 pm at Lake St. Francis just to the east of Cornwall. The difference between the two tournaments is in the power of the boat motor.
"We have been doing weekends in Cornwall for two years now" says Liette Laroche, president of Pro Bass Canada. "We now choose to do tournaments in Cornwall to give the opportunity to local fishers to fish on their home waters. The Cornwall community is also always very friendly and happy to see us as we get many spectators at the event."
Indeed, the Pro Bass events are more than just fun to watch. Laroche and her group of organizers always make sure to greet spectators with open arms by giving out of Pro Bass merchandise to locals.
The competitors work in teams of two anglers to catch the biggest and heaviest bass possible. The minimum length for each kept bass is 12 inches. If not, the fishers receive a ½ pound penalty.
The last Pro-Bass Canada Tournament that came into Cornwall reeled in fishermen from all over Quebec, Massena, Akwesasne and as far as Massachusetts. Cornwall hotels and restaurants will be busy with fishermen and organizers all weekend, as every tournament generally brings out 160 fishers, or 80 teams of two. There should be similar results this coming weekend, especially as the last tournament before the classics.
"Our tour was originally strictly in Quebec, yet having tournaments in parts of Ontario has been a welcome change," says Ms. Laroche. "The Cornwall waters are beautiful and we always look forward to the change in scenery."
Tournament prizes include a Pincecraft boat, Mercury Motor, Galvanized Trailer and a Travel Cover and Sonar as well as cash prizes if you place anywhere within 1st to 15th place. $100 cash prizes are also drawn throughout the event for participating teams.
For more information or to register for the tournament, please visit the Pro Bass Canada website http://www.probasscanada.com/
Categorised in: Sports