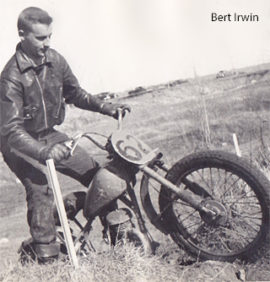 Bert Irwin Inducted into Canadian Motorcycle Hall of Fame
November 10, 2015
Cornwall, Ontario – One of Cornwall's better known motorcycle enthusiasts and businessmen has been inducted into the Canadian Motorcycle Hall of Fame.
Albert "Bert" Irwin  began racing at 16 on the dirt tracks of Ontario and Quebec. It did not take long for Bert to establish himself as a Championship calibre racer. In 1950, he won both the Canadian Junior 1 mile, and 10 mile dirt track Championships.
As a professional, Bert was top money winner in Eastern Canada dirt track racing in 1951. In the 1952 season, he ended up second in Canadian Expert dirt track and third in Expert Road Racing Championships. He improved his position to second in road racing in 1953.
While competing in the Canadian Championships in 1954, he suffered a serious injury, a broken back, and the medical opinion was that he would never ride again. Yet Bert defied the medics and was right back into racing, winning the Quebec Trials Championship in 1955 and repeating in 1956. He ended up second in the Canadian Championships and was Quebec Ice Racing Champion in 1956.
Bert was very involved and well known in the sport of enduro racing, a unique test of rider skill, speed and endurance. In 1959, he won the Canadian Enduro Racing Championship in the heavy weight class. He was Ontario Champion in the same class in 1961, and again best Canadian in 1963. From 1964 to 1967, he was consistently in the top 5 in Enduro racing. In 1968, he was Open Expert Champ in Enduro racing.
He competed in 35 Corduroy Enduro races, a 3 day event which is billed as "Canada's Toughest Race". The race continues to be run today and the Bert Irwin Memorial Award is presented for the youngest finisher of the event.
Bert also represented Canada in the International Six Days Enduro (ISDE) race in Germany, Spain, England and Wales. The Six Days of Enduro dates back to 1913 and sees riders covering as much as 1500 kilometres over six continuous days of competition.
The Canadian Motorcycle Association annually presents the Bert Irwin Memorial ISDE Award to the top Canadian finisher in the ISDE.
Bert's last National Championship came in 1978 when he was 45 years old. He was inducted into the Cornwall Sports Hall of Fame in 1982.
Bert's parents emigrated from Ireland in the early 30's and brought their love of motorcycles with them to Canada opening up a family motorcycle dealership named, T.A. Irwin and Son in 1937. After Bert graduated from high school, he became very active in the business and took it over in 1958.
Bert passed away in 1994. His son Tom Irwin now runs the business.
The passion continues today as the 3rd generation of Irwins still ride, race and enjoy motorcycling, ATV riding and snowmobiling.
About Irwin Supply
Irwin Supply is the oldest and one of the most respected power sports dealerships in Eastern Ontario. It is located at 423 Tollgate Road West in Cornwall.
About the Cornwall Sports Hall of Fame
The Cornwall Sports Hall of Fame honours Cornwall citizens who have, by their superior ability, effort and achievement, brought fame to Cornwall in their field of sport. The Cornwall Sports Hall of Fame maintains displays in the lower concourse of the Cornwall Civic Complex and maintains a website with profiles of its inductees:
About The Canadian Motorcycle Hall of Fame
The Canadian Motorcycle Hall of Fame preserves and promotes Canadian motorcycle history. Since the first induction banquet in Toronto in 2006, over 100 distinguished motorcyclists and organizations have been inducted into the Hall of Fame.