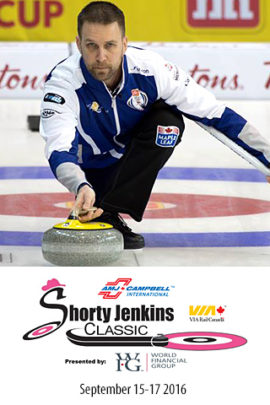 Brad Gushue Returns to Defend the Shorty
August 24, 2016
Cornwall, Ontario – Brad Gushue will return to the Cornwall Curling Centre to defend his title at the 20th Annual AMJ Campbell Shorty Jenkins Curling Classic
The event takes place September 15 through September 18.
Brad Gushue and his rink from Newfoundland captured last year's title in an exciting heavyweight tilt against Ontario's Glenn Howard that went to extra ends.
This year, 39 of the top Curling teams from around the world will be vying for top honours at the Shorty, including teams from across Canada, Scotland, Switzerland, Sweden, the Netherlands and the USA.
"The event is a chance for everyone in Cornwall to see the greatest curlers in the world in a very personal setting," says Event Chairperson Gord McCrady. "We also expect quite a few fans from across the region."
The Shorty Jenkins Curling Classic, presented by the World Financial Group, is the longest running event on the World Curling Tour. It features one of the highest combined purses of $84,000 and represents valuable points for Canadian teams looking to qualify for the 2017 Olympic Trials, which are scheduled for Ottawa.
"The curlers know that a good performance at the Shorty will pay dividends later in the season," says Mr. McCrady.
2016 Men's Draw
This year's bonspiel boasts one of the most talented Men's fields ever, which includes 2015 Brier Champ and World Champ Kevin Koe from Alberta, 2014 Olympic gold medalist Brad Jacobs from Northern Ontario, the silver medalist David Murdoch from Scotland and the bronze medalist, Niklas Edin from Sweden.  Additionally, the field will have other world champs and Brier champions such as Ontario's Glenn Howard, Manitoba's Reid Carruthers, and Mike McEwen, Quebec's Jean Michel Menard and Guy Hemmings, as well as other teams from Canada, Scotland, Switzerland, the Netherlands, and the United States.
2016 Women's Draw
A very strong Women's side of the event will field Scottie Tournament of Hearts and World Championship teams, such as Ontario's Rachel Homan, Sherry Middaugh, Allison Flaxey, Jamie Sinclair from USA, Nova Scotia's Mary-Anne Arsenault, Quebec's Marie-France Larouche, as well as Silvana Tirinzoni from Switzerland.
This is the 20th year for the Shorty Jenkins Curling Classic, and the second year being held in Cornwall. Action gets underway on Thursday, Sept. 15th at 3:00 p.m. and will continue through to Sunday, September 18th with the final match at 3:00 p.m.
Everyone Welcome
Everyone is welcome to attend the event at the Cornwall Curling Centre, located along the banks of the St. Lawrence River.
Information regarding tickets, schedule, team profiles, and events will be available shortly at www.cornwallcurling.ca or can be found on the World Curling Tour site at www.worldcurl.com
Categorised in: Sports