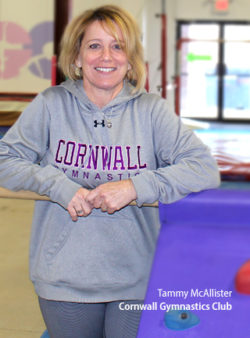 Cornwall Gymnastics Club Moves Home
December 4, 2017
Cornwall Ontario – After a few years operating just outside of city boundaries,  the Cornwall Gymnastics Club has moved home.
The club's new location is in newly renovated space at 525 Boundary Road. The new space is more than double the size of the previous location, measuring 18,900 sf.
The club had simply run out room at the old location, and with waiting lists for classes, the time had come for a move.
"It's a great place, we're really excited," says club owner Tammy McAllister. "There's so much more we can do in this place."
Ample free parking is available and the building is fully air conditioned.
"The new location has allowed us to add both a ladies fitness and cheer class to our repertoire," adds Ms. McAllister. "With this larger facility, we can now bid on large gymnastics meets which will bring tourism to the city."
The extra space offers the opportunity for the club to bring in additional equipment, which is already in the works.
The Cornwall Gymnastics Club is a not for profit organization that has been providing students with an opportunity to learn gymnastics in a safe environment for over 15 years.
"We have a long history in Cornwall," said Ms. McAllister. "We have moved five times since the club began.  I'm done, we're home!"
The Cornwall Gymnastics Club offers a wide variety of recreational programs including Junior Jumpers classes, Mom-Pop-Tot, Kinder Gym, Teen classes, and now Ladies Fitness classes and Cheer classes.  Additional offerings include a very popular Drop In Play Gym and Birthday Parties.  They also have a very active and successful competitive program with participants from 4 to 16 years of age.
The next intake of classes has recently begun and runs through March 11th followed by a spring intake from March 17th to June 12th.
To enroll in classes or receive more information, you can reach the club by phone at 613-933-4356 or online at:
Categorised in: Sports