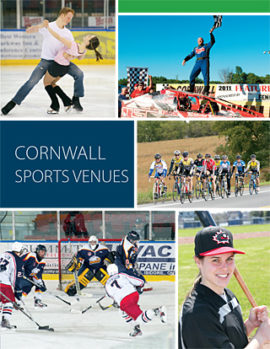 Cornwall Looking To Host Major Sporting Events
March 27, 2015
Cornwall Ontario – National organizations will have a better chance to consider Cornwall as the site of their sporting competitions at the upcoming Sport Event Congress in Toronto.
Cornwall Economic Development has secured a booth at the popular gathering of key decision makers, which runs from March 30 to April 1. The Sport Event Congress is  Canada's largest annual gathering of sport and tourism professionals attracting 400 delegates each year. The Congress offers events rights holders the opportunity to meet one-on-one with municipal representatives interested in hosting events in their communities.
"Cornwall has a long history of successfully hosting major sporting events across a number of sports," said Bob Peters, Senior Development Officer. "These events can bring in hundreds of athletes, coaches and officials, and attract thousands of spectators. The economic impact of such activity is significant."
The Cornwall team will comprise of members of the City's Economic Development and Recreation Departments, as well as Cornwall and the Counties Tourism and the NAV CENTRE. The NAV CENTRE is a member of Sports Tourism Alliance, and attended the 2014 Congress in Edmonton.
"Sports Tourism is a sustainable opportunity that offers great growth potential for Cornwall," says Lydia Blanchard, a sales manager at NAV CENTRE. "We have had great success in hosting events such as the Canadian Golden Gloves Championships and the Ontario Weightlifting Championships, and we are hoping to secure more events in the coming years."
The NAV CENTRE is one potential Cornwall venue that is highlighted in a new 12-page brochure created for this event. The Civic Complex and the versatile Benson Centre, along with the Curling Centre, Aquatic Centre and Waterfront Trail are also featured.
"We are fortunate to have many world-class facilities in our community, and it is always exciting to welcome exceptional athletes from across the country to experience them," said Christine Lefebvre,  the City's Division Manager of Recreation. "Many sporting events have a close connection to local sport groups, and can also serve as fund-raisers for them."
Another key element in Cornwall's pitch is the private sector resources in the community such as hotels and restaurants, all of which are important in meeting the needs of event organizers.
"Cornwall has over 900 hotel rooms and therefore can easily accommodate national and provincial championships that could see over 200 athletes participate," said Linda Wilson, Executive Director of Cornwall and the Counties Tourism.
Get the Brochure
A copy of the new Cornwall Sports Venures brochure can be downloaded from the Resources section of this website.