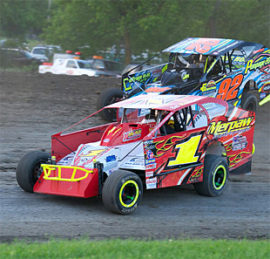 Cornwall Motor Speedway Brings Racing Fans to Cornwall
June 21, 2013
Cornwall Ontario – On Sunday afternoon, dozens of finely-tuned engines will roar to life at the Cornwall Motor Speedway. It is a summer tradition that attracts thousands of people to Cornwall for the exciting spectacle of dirt track racing.
The Cornwall Motor Speedway features a ¼ mile dirt track with concessions and expansive spectator stands. DIRTblock Modified, Sportsman, Pro Stocks, Semi Pro, and Mini Stocks are among the weekly divisions hosted every Sunday. Races are typically each Sunday afternoon/evening, with a number of special events held throughout the summer.
Here are some of the highlights:
Sunday June 23 – World of Outlaw Series
Race fans will be able to get their fix on Sunday night when the World of Outlaws late model series takes over the Cornwall Motor Speedway for some high-octane racing action.
Canada Day Weekend
Race fans will enjoy two days of racing on Canada Day weekend, with a doubleheader  as the Big Block Modified Super DIRTcar Series will be in town on Sunday, June 30th and on the following night on Monday, July 1st  the Speedway will host a Mr. DIRTcar 358 Modified Series/Canadian National Series event plus Mr. DIRTcar Sportsman and Mr. DIRTcar Pro Stocks.
Sunday July 28 – World of Outlaw Sprint Cars
These machines turned laps just over the 10-second mark at Cornwall Motor Speedway in 2012.  Under the right circumstances, they could dip below that mark when they return this summer.
Racing continues throughout the summer, with each Sunday night offering something different and exciting. Typically main gates open at 2pm and main races start at 5pm. Races are subject to weather, and fans are advised to wear hearing and eye protection.
For more information call 613-938-3945 or visit the Speedway online at www.cornwallspeedway.com
About the Cornwall Motor Speedway
For over 40 years the Cornwall Motor Speedway has entertained car lovers, and anyone with the need for speed. Originally named Power Dam Speedway when it opened May 31, 1970, the ¼ mile dirt track located off of Cornwall Centre Road's high banked oval has given thousands of spectators and fans a spectacular show. Stocks and kart racing isn't all, though—Cornwall Motor Speedway also offers tractor races, and special weekly events.
The Cornwall Motor Speedway is located on Cornwall Centre Road, between Power Dam Drive and Brookdale Avenue.