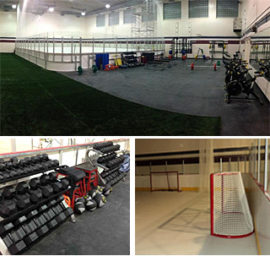 Cornwall Sports Centre Opens State of the Art Training Facility
January 31, 2014
Cornwall Ontario – An exciting new element to Cornwall's already strong sports and athletic scene is now open.
The Cornwall Sports Centre is a 10,000 sf facility located at 412 Fifth Street East. The facility is equipped with a 3000 sq ft synthetic ice surface, state of the art training equipment, an artificial turf track, dressing rooms, video/meeting room, physio office and a lounge area with a flat screen TV.
"Our core vision is to provide all of the training tools an athlete may need in one facility," said professional hockey player and Co-owner Brock McBride. "We want to bring elite level training that has been available in bigger centers for many years to the Cornwall area. We hope to help all levels of athletes from the beginner to the pro get all the training tools and support they need to accomplish their goals."
The Cornwall Sports Centre will offer elite conditioning programs for athletes. The indoor synthetic ice surface is specifically targeted for hockey players, while the indoor turf will allow football and soccer players to perform agility drills as well as practice their ball skills at times during the year where an outdoor option is not available.
"Our target is any athlete looking to improve both the skill aspect of their game as well as the physical conditioning component," said Mr. McBride. "In addition to these we will be targeting any person who would like to improve their overall health and well-being as we offer gym memberships as well as Yoga, Pilates and Spin classes."
Mr. McBride is joined in the venture by co-owners Jeff Carter, Harold McBride and Ryan McBride. The owners have also formed an impressive coaching and training staff that includes Tyson & Tylor Spink, Ian Perry, Geoff & Jesse Winchester, Brent & Josh Loney, Todd Perry, Jason Lepine and Dustin Traylen.
They are also launching a related venture called Own the Ice Hockey. Own the Ice will offer a variety of programs aimed at the hockey player, including on ice development camps as well as hockey schools at the Benson Centre in Cornwall and rinks in Massena and Cardinal.
"Our synthetic ice pad and off-ice programming allows us to complement our on-ice development in camps," says Mr. McBride. "The ice pad, which is beside the gym area, comes complete with boards and glass and gives us the ability to provide all of the training tools needed under one roof. Athletes can go through a workout under the guidance of one of our strength trainers and when they are finished lace up their skates to work on their skills."
With this in mind, the Cornwall Sports Centre has partnered with other local sports trainers such as Mat Milberry from Benchmark Testing, Geoff Winchester from G-24. and Benoit Veilleux of Performance Headquarters, as well as an in-house physiotherapist/chiropractor.
The Cornwall Sports Centre will be open from 8am to 10pm, 7 days a week.
Open House
An Open House will be held on Friday January 31st from 4 to 8pm. Members of the public are invited to tour the new facility and see demonstrations. Management and staff will be present to answer questions about the facility and programs.
"We feel that the people of Cornwall and its surrounding area are very passionate about sports and for our local athletes to fully reach their potential they should be provided every training tool and opportunity necessary," said Brock McBride, "A state-of-the-art facility such as the Cornwall Sports Centre together with experienced staff and top of the line training equipment will help athletes see better results and reach that elite level."
You can learn more by contacting the Cornwall Sports Centre team in person, by phone at 613 935 5269, or on the website at www.Owntheicehockey.com.
You can also find the team on Facebook and on Twitter at @OwntheIceHockey