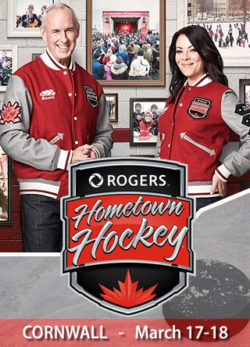 Cornwall to be Featured on Rogers Hometown Hockey
September 7, 2017
Cornwall Ontario – Canada's ultimate touring hockey festival will be touching down in Cornwall in March for a weekend celebration of Canada's favourite game.
The Rogers Hometown Hockey™ Tour presented by Scotiabank and Dodge will be in Cornwall on Saturday, March 17th and Sunday, March 18th. Cornwall is one of 24 communities across Canada that will be hosting the tour during the 2017-18 hockey season.
Free of charge and open to fans of all ages, the jam-packed two-day festival features live entertainment, local celebrities, NHL alumni and a multitude of activities for the whole family to enjoy. Each week concludes with an outdoor viewing party of an NHL® game broadcast nationally on Sportsnet™ and hosted by Ron MacLean and Tara Slone.
"We're thrilled to have the chance to host Rogers Hometown Hockey™ and showcase our great community to Canadians from coast to coast to coast," said Mayor Leslie O'Shaughnessy. "Cornwall has a proud and colourful hockey history dating back over a century. It has helped to unite us and shape our identity as a City. This event will give us a chance to celebrate our hockey roots and all that it means to our community."
There will be a variety of free family activities to enjoy on the Saturday and Sunday leading up to the live broadcast of Rogers Hometown Hockey on Sportsnet™ and Sportsnet NOW™ on Sunday evening.
A local organizing committee made up of representatives from the City and minor hockey associations will be assisting with the logistics of the event in partnership with officials from Rogers Hometown Hockey. Initial meetings and a site visit have already taken place.
"This is going to be a major event that will put Cornwall in the national spotlight and we want to encourage all residents and businesses to mark their calendars and help us celebrate," said Lorne Taillon, Chair of the organizing committee. "We want to make this a true community celebration and involve as many groups and individuals as possible."
Additional details will be released on a regular basis as the event draws closer.
For additional information, please click here.
Categorised in: Sports