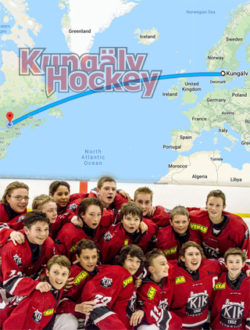 Cornwall Welcomes Kungälv Hockey Group
March 29, 2018
Cornwall Ontario – There will be some special visitors on the ice and in the community this week.
A group of hockey players, coaches and their families have made the 20 hour journey from Kungälv Sweden to Cornwall. The purpose of the trip is hockey, but the true goal is to build friendships and connections between the two communities.
It's an annual tradition that started in 2006 and has developed into a special bond between the Swedish city and the Seaway City – one built on hockey, friendship and culture.
This year approximately 80 people will enjoy Cornwall hospitality this week. The Swedish hockey players will take up residence with their icemates from the Seaway Valley Rapids, practicing and even attending school together. The relatives and coaches will be staying at the Ramada Hotel.
The visit will be capped off when the two teams square off for a friendly game at the Benson Centre on Friday at 11 am. The games is open to all, with donations being accepted for the Agape Centre.
It's a highlight of the Cornwall visit, for sure, but only one piece of the experience.
"The kids rarely remember the score of the game but they do remember being at school or having fun with their new friends," said Lars Ove-Haraldsson, the long-time organizer of Kungälv's annual Easter hockey trip to Cornwall. "The kids learn about Canadian culture and develop a respect for a different way of doing things."
The Kungälv team will also donate their time to help out at the Agape Centre during the week, followed by a banquet on Friday night and a family party on Saturday.
The group will then travel to Toronto on Sunday before flying home.
Since the start of the annual visit, roughly 1,000 players and family members have made the trip to Cornwall.
"We come back every year because there is something special about Cornwall and the bonds we forge," said Mr. Haraldsson. "It is an experience that stays with these children forever."
About Kungälv
Kungälv is a city of about 23,000 and is located in the southwestern part of Sweden. The Kungälv -Cornwall connection started with former Cornwall Aces star Niklas Andersson, whose hometown is Kungälv. Mr. Haraldsson works on sporting events for Swedish Television.
Categorised in: Sports