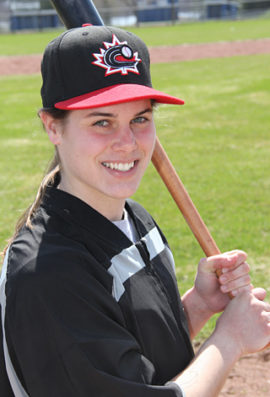 Cornwall's Jenna Flannigan To Compete In Pan Am Games
May 22, 2015
Cornwall Ontario – Cornwall's Jenna Flannigan will represent Canada at the 2015 Pan American Games as part of the Women's National Baseball Team.
The announcement was made by the Canadian Olympic Committee (COC) and Baseball Canada recently.
Jenna Flannigan has previously been a key member of Team Canada, and is considered one of the top players in the world. In 2012 she helped Canada capture the bronze medal at the Women's Baseball World Cup and in the process was named to the tournament's all-star squad.
She will play outfield for Team Canada and is considered one of the Team's strongest hitters.
"To see baseball at the Pan Am games is really exciting," said Jenna Flannigan. "It just shows how much the sport has advanced and improved."
The Pan Am Games will be a historic event for the Canadian Women's National Baseball Team with women's baseball being included on the sport program for the first time ever at a major multi-sport games. The women's baseball tournament will take place July 20-26 in Ajax, Ontario.
"Canada is excited to welcome women's baseball to the Pan Am program," said Marcel Aubut, President of the Canadian Olympic Committee. "These women will make history as the first-ever Canadian Pan Am Games female baseball team and that honour is well-deserved."
On the international stage, the Canadian Women's National Baseball Team has captured four medals (one silver, three bronze) in six world championship events since the International Baseball Federation (IBAF) introduced the Women's Baseball World Cup in 2004.
About the Pan Am Games
The Pan American Games are the world's third largest international multi-sport Games; they are only surpassed in size and scope by the Olympic Summer Games and the Asian Games.
Both the Pan Am and Parapan Am Games are held every four years in the year preceding the Olympic and Paralympic Summer Games.
While the Pan Am Games have been hosted in a dozen countries throughout the Americas, Canada has had the honour of hosting them twice; in 1967 and 1999 and both times in Winnipeg, Manitoba. In 2015, Toronto will be the Host City of the Pan Am and Parapan Am Games.
Canada will field the largest team in its Pan American Games history with over 700 athletes expected to be named to Team Canada. With TORONTO 2015 providing a "Home Games" experience, as well as a number of qualification opportunities for the Rio 2016 Olympic Games, these Games will provide a tremendous experience for Canada's high performance athletes.