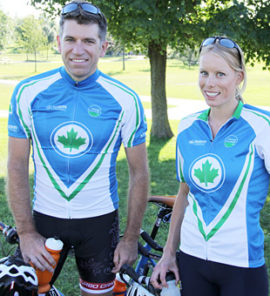 Cyclists hit the road in Team Cornwall colours
August 14, 2013
Cornwall Ontario – Local cyclists can now take a piece of their hometown with them whenever they head out on the road.
A new Team Cornwall cycling jersey has been created to give cyclists a unique chance to show their hometown pride while riding on paths and roads both near and far.
The jersey was designed by Team Cornwall member Joe McNamara, an avid cyclist and the creator of Turbo Crank, a software-based workout program for cyclists and triathletes.
Following in the tradition of the popular Team Cornwall cards, Mr. McNamara believes the jersey could become an instant conversation-starter for cyclists whenever they stop for a break or a meal.
"Your jersey will become your Team Cornwall card," he added.
Mr. McNamara's creation is already paying dividends as a handful of the jerseys have already been sold and worn by cyclists at tours and events abroad. Mr. McNamara and his wife both donned the jersey during a recent bike tour of New York City, while a couple of friends grabbed a jersey before heading off for a bike tour in England.
Closer to home, the sport of cycling is enjoying a big rise in popularity. The scenic Waterfront Trail that winds its way along the St. Lawrence River is heavily used by local cyclists, and events like the Cornwall Triathlon and the MS Bike Tour are drawing more attention to the sport. Beyond that, members of the Cornwall Multi-Sport Club often travel to other parts of Canada and the U.S. to train and compete in events.
To build on that growth in popularity, Team Cornwall will be holding a bike tour in conjunction with its annual Golf Fun Day on September 11th. For those interested, a special group order for the new cycling jersey will be taken up to August 15th, and they will arrive in time for the event on September 11th. The jersey will also be available on an ongoing basis however it is more cost-effective to place a group order.
Designed in Team Cornwall's familiar blue and green colours, the cycling jersey is made of 100% polyester Coolmax mesh fabric with superior breathability and quick drying quality. The colourful graphics are sublimated in vibrant fade resistant colours. In addition, the jerseys feature a full length zipper in the front and three pockets on the back of the jersey – including a personalized spot for Team Cornwall cards.
Those interested in purchasing a jersey can schedule a fitting session first, and the jerseys take approximately three to four weeks from order date to arrive. For more details,   visit turbocrank.com/teamcornwall.
About Team Cornwall
Team Cornwall is a group of business people who have banded together to promote Cornwall to their business contacts around the world. Working closely with Cornwall Economic Development, the Chamber of Commerce and other local organizations, Team Cornwall members help spread the word about the considerable advantages of living and doing business in our hometown.
More information about the meeting and about Team Cornwall, please visit: www.TeamCornwall.com.