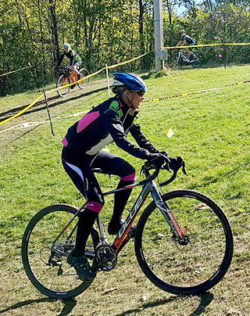 Cyclocross Race in Lamoureux Park this Weekend
October 6, 2017
Cornwall Ontario – Cyclocross racers from across Eastern Ontario will be descending on Cornwall this weekend as the city hosts the third-leg of the Eastern Ontario Cyclocross Race Series.
The event, which has been held in Cornwall for 7 years, is expected to attract upwards of 270 competitors.
Event organizer Bob Woods said the race will generate economic spin-offs for the community, and it will also draw some newcomers to Cornwall.
"Lamoureux Park is excellent for cyclocross and we always look forward to coming to Cornwall," said Mr. Woods. "We have riders as young as 5 and a few are in their 70s."
The race field will also consist of 10 or 12 local competitors.
"Several area cyclists have taken the plunge and purchased a bike that is specific to this type of racing," said local cyclist Joe McNamara. "Cyclocross is a challenging and healthy activity, and the race has a positive economical impact for the area."
CX Race Day Schedule – Sunday October 8
The racing will take place on Sunday, October 8 at the east end of Lamoureux Park, east of the Cornwall Curling Centre. The races will start at 9 a.m. with the following schedule
RACE 1  9:00 a.m. Race B: Master Men B, Master Men C, Master Men D, Master Men E; U15 Male, U17 Male, Novice Men
9:50 a.m. End of race
RACE 2 – 10:15 a.m. : Race K: U11 & U13 male and female, and some U15 Male B riders (by special arrangement)
10:35 Finish U11;  10:45 Finish U13
RACE 3  – 11:05 a.m. : Race W: All Women's Categories except for U11 & U13 girls
11:55 a.m.  End of Race
RACE 4  12:15 p.m. : Race A: SR M, Master Men A and U19 M
1:15 p.m.  End of race
About Cyclocross
Cyclocross is the fastest growing discipline in cycling, and its popularity is skyrocketing worldwide. Special cyclocross bikes are used (think of a road bike with narrow mountain bike tires) as racers ride on grassy fields, dismount off their bikes and carry them over barriers, run up steep, short hills and ride through sand pits or mud (depending upon conditions).
About Lamoureux Park
Lamoureux Park is a large park along the shoreline of the St. Lawrence River in the downtown core of Cornwall. Ample free parking is available at the Civic Complex, located at 100 Water Street East.
Categorised in: Sports