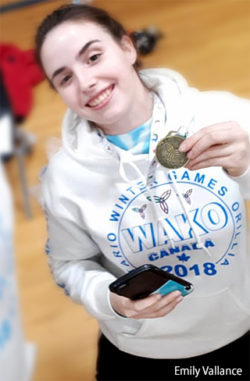 Emily Vallance Wins Ontario Winter Games Gold
March 5, 2018
Cornwall Ontario – Cornwall's world champion is golden again.
Emily Vallance picked up the gold medal in kickboxing at the Ontario Winter Games. Ms. Vallance won both her fights including a final championship match in the 58 kilogram category against Tia Rahmon on March 3.
The Ontario Winter Games took place in Orillia Ontario this past weekend. 3,000 athletes competed in 25 different sports.
Prior to the Winter Games, Ms. Vallance has won four world titles in kickboxing, the most recent being the lightweight division belt at the 2017 International Kickboxing Federation World Classic Muay Thai/Kickboxing championship amateur tournament held in 2017 in Orlando, Florida.
At the time, her coach Rolland Bissonnette remarked on the accomplishments of his student.
"Emily is the best (amateur) female fighter in the world," Bissonnette said matter-of-factly. "I'm biased, I'm her coach, but I believe that."
Ms. Vallance, a student at Ecole Secondaire L'Heritage, has also won titles with the WKC, WKU and WKA organizations. In 2016 she was the recipient of the Jacques Richard Trophy as the area's top sports personality.
She is currently associated with the Apeiron MMA Club in Cornwall.
Apeiron is latin for "universal fire; infinitely burning; infinitely changing". The club is open to new members and training is broken down into three parts: fitness/kickboxing, then MMA, then BJJ/self defence.
About the Ontario Winter Games
The Ontario Games Program started in 1970 as a showcase for amateur sport. It has now become Ontario's largest multi-sport event, including both team and individual sports.
Provincial level athletes from ages 12 to 18 qualify through a regional selection process. For many young athletes, the Ontario Winter Games is the high point of their sporting career, while for others the Games are a stepping stone for the Canada Games, Pan Am Games or even the Olympics.
The Games take place every two years and  are supported by the Ontario Ministry of Tourism, Culture and Sport.
Categorised in: Sports