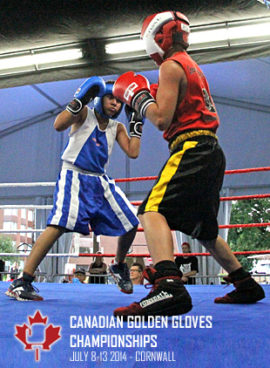 Golden Gloves Championship Returns to NAV CENTRE
May 27, 2014
Cornwall Ontario – Following the success of last year's inaugural competition, Boxing Canada will be bringing back the Canadian Golden Gloves Championship to Cornwall. The championship will be held on July 8th through the 13th at the NAV CENTRE in Cornwall Ontario.
Amateur Boxers from across the continent will vie for the prestigious championship titles in a variety of weight and skill (open and novice) categories, from junior, youth to experienced adults.  Both male and female boxers winning their categories will earn the title of Canadian Golden Gloves Champion.
Mr. Robert Crête, the Executive Director of Boxing Canada estimates more than 300 boxers trainers, coaches and officials, will be in attendance.
"Boxing Canada is pleased to once again be hosting this prestigious event at the NAV CENTRE in Cornwall," said Mr. Crête. "The venue, facilities, area and amenities are ideal for an occasion of this magnitude."
Boxers will be divided into groups according to age, weight and numbers of bouts, ensuring that each competitor will meet equally skilled opponents. The tournament is held according to the rules of the Canadian Amateur Boxing Association. Competition form is as follows:
Juniors 'A' /Boys/Girls : 3×1 minute
Juniors 'B' /Boys/Girls : 3×1 ½ minutes
Juniors 'C' /Boys/Girls : 3×2 minutes
Youth women/Elite (senior) women : 4×2 minutes
Elite (senior) men : 3×3 minutes
Clubs and individual participants are urged to reserve early, to ensure premium accommodations. Registration packages are available on Boxing Canada's website.
Mr. Pat Fiacco, the President of the Canadian Amateur Boxing Association, welcomes all participants and boxing enthusiasts alike to what is surely going to be the launching pad for future Canadian Boxing Legend.
About Boxing Canada (CABA)
Boxing Canada is the National Sport Governing Body of Amateur Boxing in Canada, and is affiliated with the International Amateur Boxing Association called Association internationale de boxe amateur (AIBA). Boxing Canada exists to promote the sport of amateur boxing in the purest Olympic tradition, and in doing so cultivate the development of our athletes in sportsmanship and fair play. Learn more about Boxing Canada at www.boxing.ca.
About the NAV CENTRE
Located on the scenic shores of the St. Lawrence River in Cornwall, the NAV CENTRE is a full service conference centre offering access to 550 guest rooms and 70 dedicated state-of-the-art meeting rooms. The Centre, which is owned and operated by NAV CANADA, can accommodate small groups of five to large groups of up 500. The NAV CENTRE is also an ideal location for organizations with longer-term training or workgroup requirements, with ample classroom space and affordable all inclusive plans to make your offsite initiatives a success. The NAV CENTRE is an accredited member of the International Association of Conference Centres (IACC), provided for adhering to globally recognized standards in hospitality service. Learn more about the Centre at www.navcentre.ca