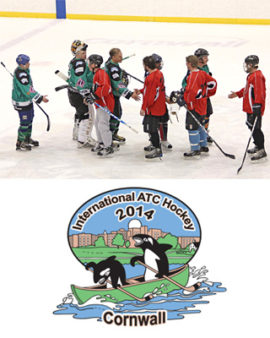 International ATC Hockey Tournament Lands In Cornwall
March 4, 2014
Cornwall Ontario – The NAV CENTRE and Cornwall will be host to the 41st edition of the International Air Traffic Controllers Hockey Tournament from Tuesday March 4th through Friday March 7th, 2014.
Approximately 300 players and supporters – hailing from all over Canada, the U.S., Russia and Europe – will take part.
Games will be held at the City of Cornwall's new multi-sport facility, the Benson Centre.
"This is a one of a kind event in our industry that brings together our brothers and sisters from other air traffic control units and organizations in a spirit of camaraderie and charity," says Dave Johnson, an organizer and Air Traffic Controller from Vancouver.
"Participants take advantage of travel, some with their families, to cities they might have not otherwise had the chance to see and to build bonds with people in their industry they would not have otherwise met."
The annual event is held in a different location every year, with recent events hosted in locations such as Cleveland, OH, St Johns, NL, Fort Worth, TX, Calgary, AB and Helsinki, Finland. Next year's destination is Lake Bled, Slovenia.
Hockey for a good cause
The event benefits a charity selected by that year's organizing committee, which is made up of NAV CANADA employees from Vancouver and surrounding areas. NAV CANADA is also a sponsor of this year's event.
"We're very happy to say that proceeds of the 41st International ATC Hockey Tournament will benefit the Autism Society of Canada (ASC), which provides a much-needed, collective voice for the autism community in Canada," says Johnson.
Tournament participants will be staying at the NAV CENTRE. A total of 40 games will be played at the Benson Centre over the tournament to crown the champions.
"The NAV CENTRE is a great place to host a large hockey tournament, with comfortable lodging, great dining options and quick access to Cornwall's modern hockey facilities," says Kim Coe-Turner, General Manager of the NAV CENTRE. "We are committed to bringing new events like this one to the region and are looking forward to welcoming participants and their families to our beautiful city."
About the NAV CENTRE
Located on the scenic shores of the St. Lawrence River in Cornwall, the NAV CENTRE is a full service conference centre offering access to 551 guest rooms and 70 dedicated state-of-the-art meeting rooms, spa, fitness centre with indoor pool and an Irish pub with live entertainment. The Centre can accommodate small groups of five to large groups of up to 500. Learn more at www.navcentre.ca.
About the Benson Centre
The Benson Centre is Cornwall's newest recreation facility, offering 3 NHL sized ice rinks, an indoor field house and indoor tennis court. The Benson Centre is situated at 800 Seventh Street West, on 15 acres just west of the Brookdale Avenue traffic circle. Learn more at www.Cornwall.ca