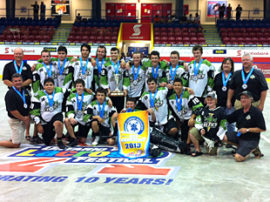 Midget Celtics Win Gold at Provincial Lacrosse Championship
August 15, 2013
Cornwall Ontario – It was a golden weekend for the Cornwall Midget Celtics lacrosse team as they took home top honours at the provincials in Whitby, Ontario.
The Celtics won gold in the C Division in thrilling fashion, defeating a tough Mississauga team 5-4.
Celtics player Derek Lister scored with just nine seconds left to secure the victory.
"The adrenaline rush was pretty cool (after the win)," said team manager and assistant coach Vicki Akins.
Most of the team members have been playing together for years, and the team has won silver on several occasions.
"It was time for a change of colour," Akins joked.
Last month, the Cornwall Minor Lacrosse Association held its 13th annual tournament at the Benson Centre, with over 500 players and 33 teams competing in the three-day tournament. It was billed as a good warm-up before the provincials, and for the Midget Celtics, that certainly proved to be true.
"It's been a long time since Cornwall has won gold (at the provincials)," Akins noted.
This weekend, the Cornwall Junior C Celtics will host the Meredith Cup Junior C Lacrosse Championship at the Benson Centre. The Celtics will battle it out against teams from Clarington, Hamilton and Halton Hills for the title of provincial champs. The action gets underway on Friday.
Cornwall Minor Lacrosse fields several Celtics teams, ranging from the Junior C Celtics, Midget, Bantam, Peewee, Novice, Tyke and well as several house leage teams.
For more information on the Cornwall Celtics, click here.