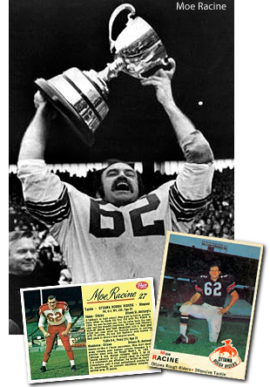 Moe the Toe Racine to Enter Hall of Fame
November 25, 2013
Cornwall Ontario – In 1958, Standard Freeholder sports writer Frank Orr wrote about the improbable try-out of a local high school kid with the professional football team in Ottawa.
"Right now Moe Racine stands on the threshold of a great football career with the Ottawa Rough Riders."
It would prove to be a prophetic statement.
Maurice (Moe) Racine would spend his entire pro career with the Ottawa Rough Riders, building an impressive list of accomplishments that have finally been recognized by the Canadian Football Hall of Fame.
In November, the CFL announced that Moe Racine is to be inducted into the Canadian Football Hall of Fame, along with former CFL players Ben Cahoon, Uzooma Okeke, Neil Lumsden and Charles Roberts as well as CFL coach Wally Buono and CIS coach Larry Haylor. It was an honour deserving of a personal phone call from CFL Commissioner Mark Cohon to Mr. Racine at his Cornwall home.
"They didn't forget. I'm finally in. It's very exciting to be picked," said Mr. Racine, 76. "It's exciting for my family also."
Racine played 213 regular season games, 36 playoff games, and 5 Grey Cup games with Ottawa, all of which are Ottawa Rough Riders records.
His illustrious career began on the football field at St. Lawrence High School in 1953. He and his Saints teammates played in five straight EOSSAA championships, winning the last three. Playing as a full back, Racine scored nine touchdowns in the 1957 season, including the a late fourth-quarter game winner against Brockville in the final. Racine would be named the inaugural winner of the Frank Smith Memorial Trophy as the City of Cornwall's top Athlete that year.
Following his successful  Rough Riders training camp in 1958, Racine would become Ottawa's offensive right tackle until his retirement in 1974. He would also become the kicker for the  Rough Riders from 1960 through 1967, earning the nickname, "The Toe". Racine never kicked in high school and picked up kicking while "just fooling around" after Rough Rider practices in 1959.
As a kicker, Racine was one of the best in the league in the early 1960s. From 1962 until 1967, he completed 50 percent of his field goals, recording 392 points.  Racine was the 1966 Eastern scoring champion with 71 points. He had been the runner-up in the 1962, 1964, and 1965 seasons.
Racine became the Offensive Captain of the Rough Riders in 1971, a position he held until the end of his career in 1974. He would win four Grey Cup rings (in five title games played) and would be named East Division all-star at the offensive right tackle position four times. Racine only missed 9 games due to injury during his 17 years of professional football.
Before the Riders last home game on October 20, 1974, against the Montreal Alouettes, the Rough Riders retired his #62. It would his last season in the CFL.
Over the course of his career, Racine compiled 274 career regular season kick-offs for 14,889 yards, 176 converts, 30 single points and 62 field goals totalling 392 points.
Playing Career
St. Lawrence High School Saints 1953-1957  (41 Games)
Ottawa St. Anthony's 1958  (6 Games)
London Lords 1960  (1 game)
Ottawa Rough Riders 1958 – 1974  (213 games)
Awards & Honours
Gilles O. Julien Award 1962
Palestre National Medaille D'or 1968, 1969 and 1974
Eastern All-Star Offensive Tackle 1962, 1965, 1966 & 1972
Grey Cup Appearances 1960, 1966, 1968, 1969, 1973
Grey Cup Championships 1960, 1968, 1969, 1973
Canadian Football Hall Of Fame- 2014
Ottawa Sports Hall of Fame -1984
The above information was compiled with the assistance of Moe Racine's son, Thom. You can read Thom's article on his Dad getting the call to the Hall of Fame here.