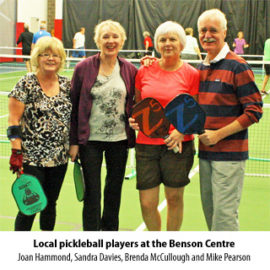 Multi-Sport Capabilities Garnering Recognition For Benson Centre
March 27, 2015
Cornwall Ontario – A little-known sport is helping to put the Benson Centre on the map as a model facility for racquet sports.
Cornwall's multi-sports centre plays host to numerous sports and recreational pursuits, and one of the most popular pastimes is pickleball – a racquet sport that is growing in popularity across North America, especially among seniors.
The multi-sport court surface at the Benson Centre combines a tennis court as well as four smaller pickleball and badminton courts. These courts are used by several hundred pickleball players on a regular basis.
The court is also attracting players from outside of Cornwall, such as John Doerr of Ottawa. Mr. Doerr was so impressed with the set up at the Benson Centre that he wrote to Canada's Minster of State for Sport, Mr. Bal Gosal.
Mr. Doerr believes the combined court surfaces and conventional building structure (as opposed to a dome-type facility) makes the Benson Centre's multi-racquet facility an innovative and economically-attractive option for other communities to follow. The Ottawa resident is currently doing further research with a goal of building a similar facility in Ottawa or Gatineau.
"Cornwall's Benson Centre racquet court building shows Canadian communities and racquet clubs an economical multi-use option that should allow the construction of many new indoor racquet courts in Canada," Mr. Doerr said. "There will be others in Canada and elsewhere who will follow Cornwall's successful example."
Upon receiving Mr. Doerr's letter, Minister Gosal forwarded the correspondence to local MP Guy Lauzon as well as the heads of various sports organizations such as Tennis Canada, Squash Canada and Badminton Canada.
The $32-million Benson Centre features three NHL-size ice pads, a fieldhouse, multi-purpose court and numerous community meeting rooms. It was built with the financial support of the City and the Provincial and Federal Governments.
"The growth of pickleball is another example of how the Benson Centre is providing healthy lifestyle opportunities for residents of all ages," said Christine Lefebvre, Division Manager, Parks and Recreation.
You can find out more about the Benson Centre, and Cornwall's recreational programs online: