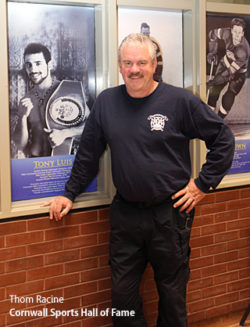 New Wall of Heroes at Cornwall Sports Hall of Fame
March 12, 2018
Cornwall Ontario – A new light is shining on Cornwall's athletic heritage, and it has never looked better.
The Cornwall Sports Hall of Fame is putting the finishing touches on a major renovation with includes new exhibits, new lights and a new presence in the Civic Complex.
"The time was right to refresh our exhibits and shine the light on some incredible achievements by Cornwall athletes that date from today back to the 1800s," says Thom Racine, President of the  Cornwall Sports Hall of Fame Board of Directors.
The major change is the development of a Wall of Heroes that profiles 48 different athletes from several different sports. Each athlete is featured with a poster that includes a photo and a brief description of their accomplishments. The posters line the main concourse at the Complex and include past and present stars such as Tony Luis, Jenna Flannigan, Christina Julien and Moe "The Toe" Racine.
One poster features Duncan McNaughton who won the gold medal in high jumping in the 1932 Olympics in Los Angeles – the only Canadian to ever win gold in the event.
"The primary exhibits are downstairs, so having this main floor space helps to entice people to further explore the Hall of Fame," says Mr. Racine. "The posters complement the murals painted along the interior concourse that feature some of our hockey stars such as Lori Dupuis, Newsy Lalonde, Dale Hawerchuck and Doug Gilmour. It is nice to prominently feature other sports on the main floor."
Other improvements to the Sports Hall of Fame include a renovation of the main exhibit hall, along with new artifacts and a redevelopment of the Cornwall Royals showcase on the main level. The Hall of Fame website and Facebook page are also being updated.
One of the new exhibits is the original clock face of the scoreboard that kept score for thousands of games at the Civic Complex. The face was salvaged when the scoreboard was replaced in 2016.
Most of the improvements will be in place in time for Hometown Hockey which arrives at the Complex March 17-18.
The Cornwall Sports Hall of Fame is open 7 days a week. Admission is free.
About the Cornwall Sports Hall of Fame
The Cornwall Sports Hall of Fame is located at 100 Water Street East in the Cornwall Civic Complex. It was created to honour Cornwall citizens who have, by their superior ability, effort and achievement, brought fame to Cornwall in their field of sport.
The Sports Hall of Fame includes a number of features in the Complex:
Wall of Heroes (Main Concourse)
Cornwall Royals Showcase (Main Concourse)
Hockey Murals (Ed Lumley Arena Concourse)
Sports Gallery and Exhibits (Lower Level)
New inductees are accepted into the Hall of Fame every two years at an Induction Dinner.  A complete list of inductees, along with a description of their achievements, can be found online at
Categorised in: Sports