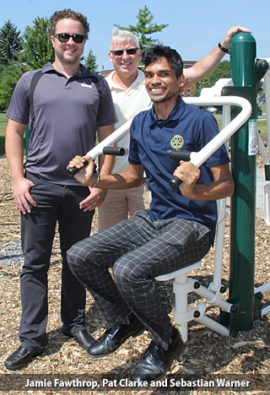 Outdoor Gym Adds to Lamoureux Park Experience
July 21, 2016
Cornwall Ontario – Lamoureux Park is a very popular place – and now it is about to be a fitter place with the opening of the Rotary Outdoor Gym.
The unique project features 10 pieces of gym equipment in an easily accessible area between the splash pad and Cornwall Community Museum.
"We hope that people who are visiting the park take a moment to try out the equipment," says Sebastian Warner, one of the organizers of the project. "The equipment can be used all year round."
Each piece of equipment is weather resistant and has posted directions on how to use it. The directions also come with QR Code that allows smartphone users to access instructional videos.
"There are dozens of different exercises that can be performed, by people of all ages," notes organizer Pat Clarke. "We also hope that some of our cycling visitors who are travelling on the Waterfront Trail will take some time to fit a workout in."
The fitness equipment ranges from cardiovascular endurance to upper and lower strength training. Other pieces could be added in the future.
The project has been in works for over 2 years and a total of $65,000 was raised by the Cornwall Rotary Club and the Sunrise Cornwall Rotary Club to help fund the purchase and installation of the equipment.
The work of preparing the space was conducted by Bourgon Construction, Cornwall Gravel and Villeneuve Creations. The City of Cornwall donated the land to the project, as well as wood chips from the City's emerald ash borer program.
"The outdoor gym is a great addition to downtown, and adds to the attractiveness of Lamoureux Park as a location to meet friends and family," said Jamie Fawthrop, Division Manager of Parks and Recreation with the City of Cornwall.
The Cornwall Rotary Outdoor Gym joins an estimated 100 other outdoor fitness gyms located in parks across Canada.
Categorised in: Sports