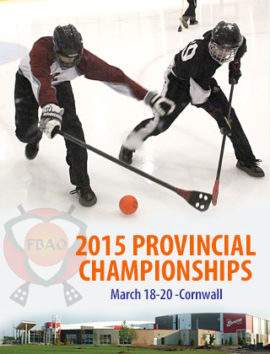 Provincial Broomball Championships Take to the Ice
March 4, 2016
Cornwall Ontario – Championship broomball is sliding its way back to Cornwall.
Over 3 days from March 18-20, the 2016 Provincial Broomball Championships will be held at the Benson Centre. The championship has attracted 47 teams from across the province and organizers are anticipating over 1,000 players and coaches to be on hand.
"Eastern Ontario has a strong history of broomball,  and we expect between 500 and 800 spectators for the weekend." says Theresa Wever of the Eastern Ontario Host Committee. The event is hosted by theEastern Ontario Broomball Association.
The Championships will use two of the three ice pads at the Benson Centre, with games running throughout the weekend.
Public are welcome to attend. The proceeds from the 2016 tournament will be used to advance coaching and development of the sport in Eastern Ontario.
"We look forward to seeing these athletes showcase their talent and compete for the Provincial Championship," says Mayor Leslie O'Shaughnessy. "On behalf of City Council, I would like to extend a special thank you to the organizers and volunteers for their hard work and dedication in planning and hosting an event of this magnitude."
In 2013, Cornwall hosted both the Eastern Ontario Regional Broomball Championships as well as the Junior National Broomball Championships.
About Broomball
The origins of Broomball have been traced back to the early 1900's. The sport was played outdoors on frozen ponds, lakes and rivers. Today, the sport is played across Canada indoors on hockey arenas. The sport is similar to hockey, with the notable exception that players do not use skates as the game is played with a broom and ball instead of a stick and puck.
About the Benson Centre
The Benson Centre is Cornwall's newest recreation facility, offering 3 NHL sized ice rinks, an indoor field house and indoor tennis court. The Benson Centre is situated at 800 Seventh Street West, on 15 acres just west of the Brookdale Avenue traffic circle.
Categorised in: Sports