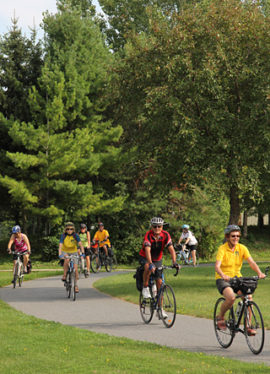 Quebec Cyclists Roll Into Cornwall
August 19, 2015
Cornwall Ontario – Cornwall's waterfront trail is a little bit busier this morning, as a group of cyclists from Joliette, Quebec explore Cornwall and the Counties.
This morning, Les Retraités de Lanaudière en vélogathered at the Civic Complex parking lot to continue their 10 day bike excursion. The sporting enthusiasts rode through Beauharnois Canal to Cornwall and will continue biking along the St. Lawrence River to Kingston and the surrounding areas.
This year, 75 cyclists travelled approximately 180 km from Joliette to Cornwall. An average day of riding usually entails between 20 and 50 kilometers of cycling during this trip.
Cornwall acts as a checkpoint for the group, where cyclists have the option to return to Quebec or continue towards Kingston.
Les Retraités de Lanaudière do numerous other sporting events. The group also enjoys hiking, skiing and snow shoeing.  During their current excursion, a few days are committed to hiking. The sport community organizes various events throughout the year, such as social outings and cross country skiing trips
For these biking enthusiasts, the trip isn't solely about the ride. The group stays in hotels along the way and takes time to see the sites.
Cornwall is a popular destination for cyclists as the City offers some of the best cycling routes in the country, with nearby amenities such as hotels, restaurants and cycle shops. The Cornwall Civic Complex and Lamoureux Park offer an ideal waypoint for participants to gather.
Cornwall and the Counties Tourism has developed a number of local cycle routes for biking enthusiasts. For more information, click here.
About Cornwall's Recreational Path and the Waterfront Trail
Cornwall's recreation path forms and integral part of the Waterfront Trail, which is a 740km series of interconnected trails mainly along the shores of Lake Ontario and the St. Lawrence River. The Cornwall portion is 25km in length and offers amazing river views, while connecting people to a number of attractions including Lamoureux Park, Cornwall Civic Complex, Cornwall Curling Centre, Cornwall Aquatic Centre, Cornwall Community Museum, the St. Lawrence Power Development Visitor Centre and the historic Cornwall Canal. It also connects the Gray's Creek Conservation Area in the east to Guindon Park in the west.
You can learn more on the City website at www.Cornwall.ca.