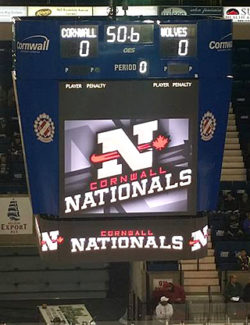 Cornwall Nationals Debut at Complex this Weekend
October 28, 2016
Cornwall Ontario – The Cornwall Nationals take to the ice for their first ever regular season home game on Sunday afternoon when they host the Danville Dashers at the Civic Complex.
The Cornwall Nationals play in the Federal Hockey League which is a professional ice hockey league with teams in the Midwestern and Northeastern United States. Cornwall is the only Canadian team in the league.
The Nationals are owned by two local businessmen, Rodney Rivette and Mitch Gagne.
"We are excited to branch out into the north" said FHL Commissioner Don Kirnan. "Mitch and Rodney have already done a terrific job in the off season including securing season ticket and corporate partnership commitments required to make this team successful."
The Nationals will have 22 home games this season. The team is coached by Alain Quenneville and the roster includes a number of accomplished athletes, including forward Jeff Legue and defenceman Jonathan Jasper.
Legue recently returned to Cornwall following nearly a decade of playing professional hockey in the United Kingdom. The 24-year-old Jasper played four seasons in the OHL and is known for his size and skating ability.
Tickets
Tickets for Sunday's game are $13 for adults, $10 for seniors/students and $5 for children ages 12 and under. Kids wearing a Halloween costume to the game will be entered into a draw for great prizes.
More info:
About the Cornwall Civic Complex
Situated in scenic Lamoureux Park on the banks of the St. Lawrence River, the Cornwall Civic Complex is a highly versatile and modern facility.  The heart of the Civic Complex is the Ed Lumley Arena, a modern ice rink that boasts seating for up to 5,800 people.  The Civic Complex  is also home to the Cornwall Sports Hall of Fame, whose members include hockey legends Newsy Lalonde, Dale Hawerchuk, Doug Gilmour and Olympican Lori Dupuis.
For more information on the Civic Complex, please visit www.Cornwall.ca
Categorised in: Sports