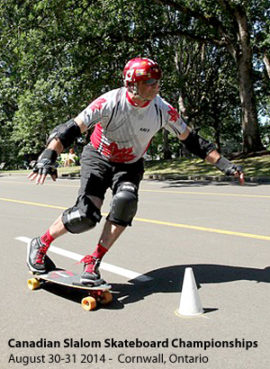 Slalom Skateboard National Championships Coming to Cornwall
July 24, 2014
Cornwall Ontario – The Canadian Slalom Skateboard Association is bringing the Canadian National Championships to Cornwall, and the event is expected to attract over 30 competitors.
"We have hosted this event in Ottawa for the last 8 years and it is with great pleasure that I get to take it home," said event organizer Claude Regnier. Mr. Regnier is a former Canadian National Slalom Champ and past president of the International Slalom Skateboarding Association.
Slalom skateboarding is a form of downhill skateboard racing that first appeared in the 1960s and has made a resurgence in popularity. Slalom racers skate down a course and must navigate a number of plastic cones. Races can be done in dual format were the racing is a head-to-head match, or in a single lane format where the racer is racing against the clock.
"These athletes must use all of their experience and abilities and fine tuned equipment to not only complete the course, but also to advance to the next rounds," notes Mr. Regnier. "It really is an exciting sport."
Four National Champions will be crowned at the conclusion of the event:  Men's, Women's, Junior (under 17) and 12 and under.
The Championships will feature Dual racing in Tight and Hybrid Slalom and possibly a Special or Single lane Giant slalom. Organizers will also be holding a kids and beginner race.
The Championships take place August 30 and 31 at the Civic Complex, down by the banks of the St. Lawrence River. The Giant slalom event will be held at a nearby secondary location. The whole event kicks off on August 30 with the kids and beginner race at 10 am. Qualifying begins and hour later and then at Noon the Opening Ceremonies officially gets the Championships off and running.  Racing will begin right after.
The Championships are a great spectator sport and the public is encouraged to attend and cheer on the competitors.   It is also a great opportunity to come and support the fundraising efforts for the local Skatepark Coalition and Partir D'un Bon Pas.
Skateboard Camps
Ontario Skateboard Coach Training Program organizers will also be hosting two skateboard camps, running the weeks of July 28th and August 25th. Slalom clinics will be held in the evenings, to introduce the public to the race event, pique interest and participation for participants and volunteers. Tuesdays will be any type of skateboarding open to all ages at Optimist Park at 6:30 pm.Thursdays will be Slalom clinics on the bike path by Mocktails at 6:30 pm.
"We can accommodate 20 skateboarders in each camp," said Mr. Regnier. "Camps are a great way to meet like minded individuals and learn from qualified instructors who can train participants properly in technique and safety."
Skateboarders interested in signing up can get more information at osctp@live.ca.