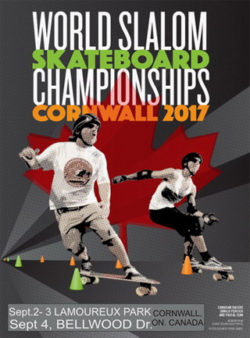 Slalom Skateboarding Worlds Race into Cornwall
August 31, 2017
Cornwall, Ontario – Athletes from around the world will be gathering in Cornwall for the ISSA World Championships of Slalom Skateboarding on September 1-4.
The competition will be be spread over 4 days, and promises to offer some exciting thrills for spectators. The event is being organized by Claude Regnier, who also brought the Canadian Championships to Cornwalll earlier this summer.
"There will be several pro skateboarders as well former pros racing in either Pro or Masters," says Claude Regnier, the event organizer and the unofficial ambassador for the sport in Cornwall. "The 12 time Women's World Champion is coming for her 13th crown."
Joe McLaren, the top-ranked slalom skateboarder in the world, will be competing, as will Louis Ricard, the top ranked Canadian. Indeed, several of the top world ranked racers will be competing in each division, including juniors and kids, which will likely crown new Canadian overall World Champions.
"Canada will be well represented in all 4 adult categories and we could see several podiums again for Canada," says Mr. Regnier.
Slalom skateboarding is a form of downhill skateboard racing. Slalom racers skate down a course usually marked by plastic cones, and time penalties are ensued when a cone is knocked down. The racer with the fastest time (after penalties) wins.
"These are the fastest slalom racers in the World and many travelling to dethrone them," adds Mr. Regnier.  "I am also looking forward to competing in a World Championship with a few of my grandsons.  I'm pretty sure that will be another first in the sport!"
There are 6 classes of competitors for the World Championships of Slalom Skateboarding: Open, Professional, Women, Masters, Juniors, and Kids. The event is part of the International Slalom Skateboarding Association (ISSA) lineup of major events. The ISSA holds major competitions throughout Europe and the USA.
Diana Dootson, the founder and editor of the National Skateboard Review will be flying in from California to the official race starter for the event.
The racing events will take place in Lamoureux Park before moving to Bellwood Drive (Pitt and Tollgate area) for the Giant Slalom on September 4.
September 1 – Meet and greet/registration
September 2 – Hybrid Slalom (all classes)
September 3 – Tight Slalom (all classes)
September 4 – Giant Slalom (all classes)
A minimum cash prize of $2,500 will be awarded overall. Cash prizes awarded to top 3 professional racers. Cash prize to women's top 3 overall winners. Prizes also awarded to top 3 in Master/Open/Junior/Kids division.
"We want thank all the sponsors that have stepped to support the World Championships Of Slalom Skateboarding here in Cornwall," noted Mr. Regnier. " We are also very appreciative of the community groups that always go beyond to help and especially the Junior Optimist and other volunteers."
"Come on out and enjoy a weekend of fun filled racing and more!"
For more information, check out the following:
Categorised in: Sports