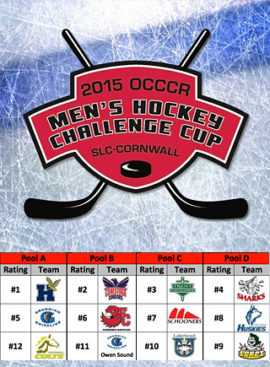 SLC Hosting Men's Ontario College Hockey Championships
March 16, 2015
Cornwall Ontario – Spring is in the air, which for many Canadians means one thing: hockey championships.
St. Lawrence College will be hosting the Ontario College Provincial Hockey Championships at the Benson Centre this week. Admission is free.
"We are looking forward to playing against the best college hockey players in Ontario," said Sean Boulerice, who coaches the SLC Cornwall Sharks along with Mike Pettinella. "We invite people to come out and support our team."
The Challenge Cup tournament features the top 11 teams in Ontario along with the host community. Despite the free bye, the SLC Cornwall Sharks earned their way into the tournament, ending up ranked 4th in the province. The defending champions are Humber College, who return to defend their crown ranked #1. Conestoga College and Trent University are ranked 2nd and 3rd respectively.
Action on the ice gets under way on Thursday March 19 with 12 round robin games at the Benson Centre.  From there a series of elimination games will culminate in the gold medal game on Friday March 20 at 5pm.
About SLC Cornwall Sharks
SLC Cornwall Sharks won the provincial championship in 2011. Their record this year was 16-3-4, winning one gold medal (George Brown tournament) and 2 silvers (Sheridan tournament and University of Toronto tournament). Both silvers involved overtime losses in the championship games.
"The players are thrilled to have the rare opportunity to play at home for family and friends," said Mike Pettinella. "They are proud to represent both Cornwall and SLC!"
SLC Cornwall plays their first game at 6:45 on Thursday night against either George Brown or Durham College. They will play their second game later that night at 9pm
You can follow the Sharks on Twitter (@AthleticsSLC) and use the hashtag #2015CC.
Championship Schedule
Thursday March 19

12 round robin games from 3pm to 10pm
Pads 1 and 2
SLC Cornwall plays their first game at 6:45 on Thursday night against either George Brown or Durham College.

Friday March 20

4 wild card games (starting at 9:30am)
4 quarter finals (starting at 11:30am)
Semi Final games are at 2:15 and 3:15 on pad 1
Gold medal game is at 5pm on pad 1
The OCCCR Challenge Cup is the year-end Championship for extramural College hockey teams across Ontario. The Ontario Colleges Committee on Campus Recreation (OCCCR) is the governing body for extramural College Hockey, and reports that over 25 OCCCR member campuses and 5 non-OCCCR institutions (Universities, and post-secondary institutions from Quebec) participated in Men's hockey this season, with a total 193 games played to date.