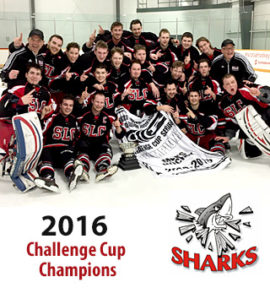 SLC Sharks Golden Once Again
March 29, 2016
Cornwall Ontario – The St. Lawrence College Sharks men's hockey team are Ontario Champions, after winning  the  OCCCR Challenge Cup.
The team defeated the host Georgian College Grizzlies by a score of 2-0 to bring the gold home to Cornwall.  After the Sharks scored the go-ahead goal the momentum would shift back and forth, with veteran Sharks goalie, Ryan Cooper, playing on top of his game by shutting out the Grizzlies.
"Words can't express how proud we are of this group" said Sharks Coach Mike Pettinella. "The guys deserved it from day one. They were so committed to our team approach, with everyone buying into their role, it really made a difference the last two days.
The team was extremely strong defensively, outscoring opponents 12-2 over the tournament.
It is the second gold medal for the men's team, which is coached by Mike Pettinella and Sean Boulerice. The two also coach the SLC Sharks womens' team which has also won two Challenge Cup titles (2014, 2015).
"We wanted to be sure to dictate the tempo by winning every battle and forcing them to skate" said Sharks Coach Sean Boulerice. "Fortunately, the strategy worked out in our favor for the victory this evening."
The Sharks earned a bye in the round robin and cruised through the round robin with wins over Fanshawe College and Trent University.  Their toughest test came in the quarterfinals against Conestoga College where the Sharks needed a goal by Derek Dionne in the sixth round of a shootout to secure the win.
In the semi-finals, the Sharks shutout out the Fleming College Knights in a 1-0 victory to earn a spot in the championship game.
It was a dominating performance all year for the Sharks, who went into the tournament ranked number one and eventually finishing the season with 20-2-1 record.
The victory is a perfect way to transition from the post-season into the Sharks Athletics Banquet where student-athletes and coaches from all teams will be recognized for their efforts this season. The banquet takes place on Wednesday April 6th.
About the Challenge Cup
The Challenge Cup is the year-end Championship for extramural College hockey teams across Ontario. Twelve teams were involved in the 2016 Tournament.
About the SLC Sharks
The Sharks is the nickname of the St. Lawrence College Cornwall Campus men's and women's hockey teams. The Sharks (both men and women) have consistently being ranked as among the best college hockey teams in Ontario.
Categorised in: Sports