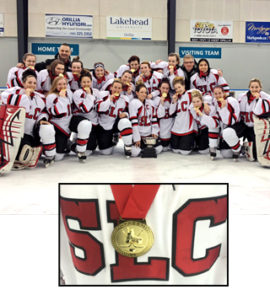 SLC Sharks Win Ontario Gold
March 31, 2014
Cornwall Ontario – Second time is the charm for the St. Lawrence College women's hockey team, who have returned to Cornwall as Ontario Champions.
The Sharks did it in dramatic fashion, scoring the only goal in overtime with the gold medal on the line against Humber College. It was a golden moment for the Sharks who came into the tournament seeded third.
"This is something that will band the 21 of us together forever in life," said Coach Sean Boulerice. "This accomplishment will continue to mean so much down the road."
The Sharks were tough opponents throughout the Championship, allowing only 1 goal over 4 games. They faced defending champions and Number 1 seed Fanshawe College in the semi-finals, emerging victorious with a 1-0 win.
Fanshawe beat Cornwall last year in a heart-breaking final game at the inaugural tournament at Cornwall's Benson Centre. That game proved to be inspiration for the 2014 team which saw 8 players return for a second year. The team adopted the motto "Don't Stop Believing" and the coaching staff hung silver medals from the crossbars for target practice to help the Sharks prepare for the Challenge Cup.
"We won't hang our gold ones!" said Coach Mike Pettinella.
Sean Boulerice and Mike Pettinella have had a lot of success over the 14 years that they have coached together. In 2011, the Sharks men's team also won Provincial gold. The men's team qualified for the provincial championships this year, reaching as far as the quarter finals.
"It has been an incredible season for our teams – just to qualify for the challenge cup championships is remarkable," says Coach Pettinella. "We are so proud of our teams on how they have represented our college and our city all season – both on and off the ice."
About St. Lawrence College
Located along the shores of the St. Lawrence River, SLC has three campuses in Brockville, Cornwall and Kingston. St. Lawrence College boasts 6,500 full-time students from Canada, and more than 40 countries worldwide. The SLC college community includes 20,000 part-time students, 1,000 staff, and more than 70,000 alumni.
St. Lawrence College is tops in the province when it comes to key performance indicators of a graduates success in finding employment. The following are updated KPI's for 2013.
93.6% of employers were satisfied with the quality of the educational preparation of St. Lawrence College graduates.
90.5% of SLC graduates found employment within six months of graduation.
84.1% of graduates were satisfied with the usefulness of their SLC education in achieving their goals after graduation.
You can find out more information on the St. Lawrence College website:
www.stlawrencecollege.ca
St. Lawrence College is also featured in the Cornwall Living magazine. You can order your complimentary copy by clicking here.