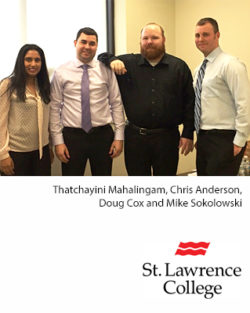 SLC Students Place Second in National Competition
March 7, 2018
Cornwall Ontario – Students from St. Lawrence College's Supply Chain Management program found success at the Supply Chain Management Association (SCMA) 2018 Student Case Competition, placing 2nd overall of 28 colleges and university teams from across Canada.
Supply Chain Management students Thatchayini Mahalingam, Chris Anderson, Doug Cox and Mike Sokolowski represented St. Lawrence College at the competition, which took place on February 24, 2018.
Working in their teams, the students explored a scenario pertaining to a supply chain problem. The teams developed recommendations based on their research, data analysis, and study of financial implications, and presented their solution to a panel of industry and academic judges.
The case competition allowed students to enhance their academic skills by applying concepts, tools and techniques of supply chain and operations to solving a real world business problem.
"It was a pleasure to be selected to represent the Supply Chain Management program at St. Lawrence College at the National SCMA conference," said Mike Sokolowski. "The opportunity to demonstrate the skills we have learned in the classroom in a real-world situation was invaluable. We could not be happier with our results."
In preparation for the competition, the students met to practice and solve case studies in a voluntary four-hour class each week, provided by program coordinator Carla Kingston-Floyd.
"This was a great experience to apply the knowledge we have learned from the Supply Chain Management program here at St. Lawrence College. The amount of work and preparation put into this by our team really paid off," said Chris Anderson. "I'd like to thank Carla Kingston for providing our team with the support and guidance which led to our success."
The Supply Chain Management program is a one-year Graduate Certificate program offered on St. Lawrence College's Cornwall campus.
About the Supply Chain Sector in Cornwall
Cornwall is acknowledged as one of Canada's major hubs for the distribution of goods. Walmart Logistics operates two large distribution centres in the Cornwall Business Park totalling over 3 million sq.ft.. Shoppers Drug Mart and the Benson Group also have major distribution centres in the city, supported by dozens of transportation and warehousing companies. You can learn more about the sector here:
About St. Lawrence College
Located along the shores of the St. Lawrence River, St. Lawrence has College has three campuses in Brockville, Cornwall and Kingston. The College boasts 6,500 full-time students from Canada, and more than 40 countries worldwide. The SLC college community includes 20,000 part-time students, 1,000 staff, and more than 70,000 alumni. The college has recently invested in the development of Applied Research and the revitalization of its campuses.
You can find out more information on the St. Lawrence College website:
Categorised in: Sports